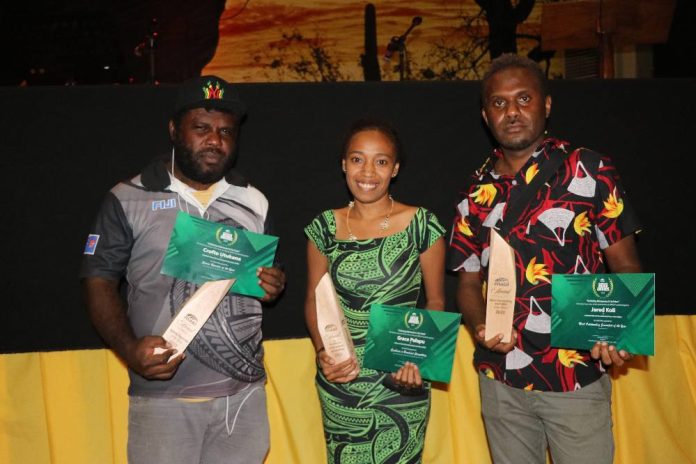 Media Association of Solomon Islands (MASI) has awarded local journalists and newsroom in the country with Excellency Awards in recognition of their hard work and contribution to the media industry in the country over the weekend.
More than 10 awards were awarded to journalists based on an independent selection received from the submissions made to MASI.
MASI President Georgina Kekea said being a journalist is a public calling.
"We celebrate the achievement of our members and hope the future will be a better one," she said.
Kekea said MASI emphasis more on professionalism to improve the standard of journalism in the country.
The awards night is to recognise and acknowledge the hard work of local journalists working in the main stream media including freelance journalists.
She said MASI can reach the standard in professionalism if members think right.
"We owe it to our people to keep them informed with accurate news and information," she said.
She said to achieve that MASI need the support of the government and stakeholders to improve the standard of journalism and professionalism.
The theme for this year awards night was "Celebrating achievement and the future."
Jeremy Bartlett representing the selection panel said they have found it hard to select the best winner for the Awards night.
"We are here to celebrate the hard work of the individual journalist and MASI members and their achievements.
He said they have been viewing, listening and reading through submissions but only one can win an award according to the categories.
"It's not like picking the best winners but also identifying the talent journalist, content creator and broadcast journalists have," he said.
Bartlett acknowledged the young journalists for their good work.
The winners of the MASI 2022 Media Awards are:
Excellence in Climate Change Reporting Award – Jeremy Gwao (Freelance Journalist) Excellence in Social Justice Reporting Award – Jimmy Nolan (Solomon Times)
Excellence in Reporting on the Pandemic Award – Mavis Podokolo (Island Sun)
Excellence in Sports Reporting Award – Crofton Utukana (SIBC)
Excellence in Visual Storytelling Award – Manna Levo (Freelance film maker)
Excellence in Broadcast Storytelling Award – Grace Palapu (SIBC)
Excellence in Feature Writing Award – Ronald Toito'ona (Solomon Star)
Excellence in Investigative Journalism Award – Ofani Eremae (Island Sun)
Public Relations Award – Atenia Tahu (Ministry of Health)
SINU Journalism Students of the Year Award-Thompson Pada, Radio Presenter of the Year Award – Felix Leve Ray (Barava FM)
Young Journalist of the Year Award – Mavis Podokolo (Island Sun)
Most Outstanding Journalist of the Year Award – Jared Koli (SIBC), Newsroom of the Year Award – SIBC
Court Reporting Recognitions Award- Assumpta Buchanan and Jennifer Kusapa, MASI Recognition Award-Esther Nuria, Mevis Podokolo, Andrew Fanasia Junior, Jeremy Gao, Elizabeth Osifelo and Ema Komasi.
SOURCE: SOLOMON STAR/PACNEWS