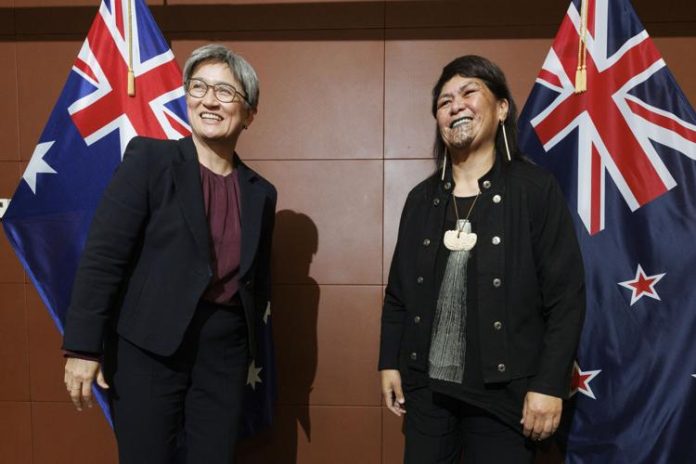 A grim sign for the Pacific has been issued as Australia and New Zealand made a decision following China's security deal with the Solomon Islands.
Australia's Foreign Minister Penny Wong visited the New Zealand capital, Wellington, on Thursday; the first stop on her third Pacific tour in just a month.
She has visited five countries across the Pacific in just over three weeks amid rising tensions in the region as China pushes for a series of security deals.
Wong met her New Zealand counterpart, Nanaia Mahuta, for the first time where at a joint press conference, Mahuta said she agreed with Wong that the "Pacific is a contested space."
"We have both agreed that things have changed," Mahuta said.
"So by working together, it will be important to ensure that we work alongside the Pacific as they define their priorities, but also the way in which we partner with the Pacific on their biggest issues like climate change, like economic resilience.
Mahuta said there was "an increasingly uncertain and risky geostrategic environment".
China has claimed at least 500 projects have been implemented in Pacific Island nations by Beijing as tensions grow over the possibility of an increased Chinese military presence in the region.
China signed the framework agreement on security co-operation with Solomon Islands in defiance of warnings from Australia and the United States in March.
Direct appeals by Australia to the Solomon Islands not to sign the deal with China were ignored.
Australia has repeatedly raised concerns that the pact could be used by Beijing to establish a military presence in the region.
In New Zealand, Wong and Mahuta "acknowledged the close co-operation between Australia and New Zealand to support a stable, prosperous and resilient Indo-Pacific region amid sharper global challenges", according to a statement from Ms Wong's office.
"The Ministers discussed their concerns at the growing strategic competition in the Pacific region.
"Ministers agreed on the need to place the perspectives and priorities of Pacific island nations at the forefront of both countries' engagement in the Pacific, and called on other development partners to adopt the same approach."
On Friday, Wong will become the first Australian minister to visit the Solomon Islands since the deal was signed.
Asked what was expected at the meeting between herself and Solomons Prime Minister Manasseh Sogavare, Wong said to "listen to people's perspectives and learn from that."
China's Foreign Ministry spokesman Wang Wenbin announced the agreement in Beijing.
"The purpose of China-Solomon security co-operation is to promote social stability and long-term peace and security in Solomon Islands, which is in line with the common interests of Solomon Islands and the South Pacific region," he said at the time.
Last month, one of China's most powerful men visited the South Pacific for an eight-nation trip which included Kiribati, Samoa, Fiji, Tonga, Vanuatu, Papua New Guinea and East Timor.
State Councillor and Foreign Minister Wang Yi was accompanied by a delegation of 20 Chinese "high-level" officials where a number of "key bilateral agreements" were signed.
In a statement from the Solomon Islands government and obtained by news.com.au, the Ministry of Foreign Affairs and External Trade said it was a "first historical visit".
Earlier this month Solomon Islands Prime Minister Manasseh Sogavare said critics of his government's controversial security deal with China had treated his country like "kindergarteners with Colt 45s".
After the visit, Beijing announced it will "appoint a special government envoy for affairs related to Pacific island countries, and strengthen win-win cooperation on infrastructure, economy, climate change and other areas.
SOURCE: NEWS.COM.AU/PACNEWS