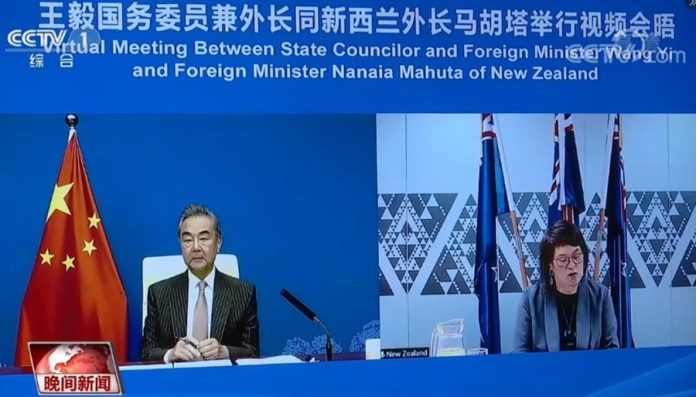 New Zealand Foreign Affairs Minister has told her Chinese counterpart that Beijing's engagement in the Pacific must advance the region's priorities and support established institutions like the Pacific Islands Forum (PIF).
Nanaia Mahuta met virtually with Chinese Foreign Affairs Minister Wang Yi on Monday as Beijing's presence in the Pacific remains in the spotlight following its controversial security agreement with the Solomon Islands and recent attempts at a region-wide deal with other island nations.
According to a Ministry of Foreign Affairs and Trade (MFAT) readout, China's role in the region was brought up by Mahuta.
"Minister Mahuta acknowledged that China has been present in the Pacific for a long time, but underlined the importance of engagement taking place in a manner that advances Pacific priorities, is supportive of Pacific regional institutions such as the Pacific Islands Forum, and addresses the significant challenges in the region."
New Zealand has opposed China's deal with the Solomons, saying Honiara should have looked for assistance from within the Pacific. A leaked draft of the agreement suggested that it could lead to a naval base being established there, but the Solomons government says that won't happen.
Prime Minister Jacinda Ardern last week said there is "power in the collective" and has suggested that regional leaders discuss any potential changes around security arrangements as a group, such as at PIF. While in Wellington on Tuesday, Samoa Prime Minister Fiamē Naomi Mata'afa said PIF will take place between 12 July and 14 July.
Mahuta also raised human rights issues in Xinjiang, "the erosion of rights and freedoms" in Hong Kong, and "the importance of peace and stability across the Taiwan Strait".
"Minister Mahuta also emphasised the importance to Aotearoa New Zealand of the centrality of regional institutions such as ASEAN, noting the upcoming meetings of the ASEAN Regional Forum and the East Asia Summit.
"The Minister expressed Aotearoa New Zealand's concern regarding the Democratic People's Republic of Korea's ballistic missile tests this year, and our opposition to nuclear tests. On Russia's invasion of Ukraine, Minister Mahuta encouraged China to use its access and influence with Russia to promote a return to diplomacy, noting China's responsibility as a permanent member of the United Nations Security Council."
Chinese media reported on the meeting overnight. A CGTN report said Wang had called New Zealand "the standard-bearer of true multilateralism in the [Pacific] that has always been committed to regional peace and stability"
"Wang told his counterpart that China respects the traditional ties between New Zealand and the Pacific Island Countries (PICs) and the established regional cooperation mechanisms.
"China's cooperation with the PICs and the established regional arrangements are fully compatible and complementary, he added.
"Wang also said China is willing to continue to carry out more tripartite and multiparty cooperation projects with the New Zealand side to jointly build an open, inclusive, united and cooperative south Pacific."
Issues in Xinjiang, Hong Kong and near Taiwan were not mentioned in Chinese reporting.
Earlier this month, after New Zealand and the United States released a joint statement raising concerns about China's human rights issues, the Chinese Foreign Ministry said Wellington was parroting "anti-China rhetoric".
Just hours later, Mahuta had a prearranged meeting with the Chinese Ambassador to New Zealand Wang Xiaolong. She skirted questions about whether the statement was raised, but Xiaolong later tweeted saying it was.
The minister has come under criticism for not travelling to the Pacific like her Chinese and Australian counterparts recently have.
It was announced on Tuesday that new Australian Foreign Affairs Minister Penny Wong will travel to Wellington to meet with Mahuta on Thursday.
"At a regional level, the number one security issue for the Pacific is the impact of climate change. I look forward to talking to the new Foreign Minister in more detail on Australia's climate change agenda, and further ways we can assist Pacific Island nations on mitigation and adaptation measures," Mahuta said.
"On broader Pacific challenges, Aotearoa New Zealand seeks to elevate the Pacific Island voice, and support collaboration and partnership through established institutions, especially the Pacific Islands Forum," she said….
SOURCE: NEWSHUB/PACNEWS