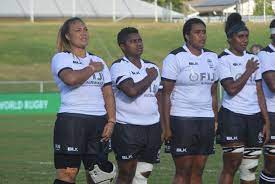 It is fitting that Lailanie Burnes will accompany Fiji to Rugby World Cup 2021, playing in 2022, as the Pacific Island nation makes its tournament debut.
Burnes founded Fiji's first women's rugby club, Nadi Blazers in 2012, went on to captain the country and was part of the team that secured qualification to RWC 2021.
The prop has since hung up her boots but will travel with the squad to New Zealand after it was announced she had been accepted onto the RWC 2021 Coaching Internship Programme.
"I was thrilled to learn that I had been selected by World Rugby and the Fiji Rugby Union for this opportunity as it is a great chance for me to grow as a coach and develop my skills," Burnes said.
"As a former player I've always wanted to give back to the sport I love, the people of Fiji and Fiji Rugby Union for all the support and opportunities presented to me when I used to play.
"This was the reason I got into coaching in the first place. Being able however, to be part of the coaching team for our national team, the team I used to play on, is simply wonderful!"
Push and pull
Burnes has already started working with Fijiana, having joined up with the squad in Australia ahead of their match against the Wallaroos in Brisbane.
Although the squad for the matches against Australia and Japan was primarily made up of players new to the test arena, there are those who knew Burnes as a team-mate.
The former Fiji captain is mindful, though, that her relationship with those players will have to change in her new role.
"I think having been in the 'boots' of the players so to speak and knowing what they have and are going through will definitely help," Burnes said.
"However, in terms of my own personal connection with my previous team-mates, whilst I'll always have these wonderful memories and friendships the nature of our relationship will have to change given I'm joining in a coaching capacity and am no longer a fellow player."
If things go according to plan then the RWC 2021 Coaching Internship Programme will be a springboard to even bigger things for Burnes.
She is keen to "gain further experience, develop my skills and grow as a coach" but she is aiming high long-term.
"I would like to be the head coach of our national team," Burnes said.
For now, Burnes will work with Fijiana head coach Senirusi Seruvakula on the road to New Zealand, but what can the players expect from their new coach?
"My coaching style varies depending on the team I'm coaching, between a pull coach to a push coach," Burnes explained.
"If the team I'm coaching has younger players I'll adapt more of a pull style to help them learn and develop whilst having fun. If the players are more senior and experienced, I may adopt more of a push style.
"In terms of my coaching philosophy, I believe I'm a conduit to help players be the best they can be both on and off the field.
"I believe in structure, a positive team culture that is fair, unbiased and conducive for learning."
"Bring it on!"
Despite the success of the Fijiana Drua in Super W this season, the size of the task awaiting the national team in New Zealand was highlighted as they were beaten by both Australia (36-19) and Japan (28-14) in May.
Fiji are the lowest nation in the World Rugby Women's Rankings powered by Capgemini to have qualified for RWC 2021, and they have been given a tough assignment in Pool C.
Fijiana will make their Rugby World Cup debut against England, number one in the rankings, at Eden Park on 8 October and will then play South Africa and fourth-placed France in the pool stage.
Burnes is bullish, however, as she looks ahead to the showpiece tournament. "It's going to be tough, it's going to be a challenge but bring it on!" she said.
"Every team including Fiji is going into RWC to win. If you don't have that mindset, you shouldn't be there."
Having contributed so much to help Fiji get to this point, Burnes cannot wait for RWC 2021 to start.
"I'm extremely excited, whilst it was always my goal to be on the other side of the sideline as a player for RWC I'm grateful for the opportunity to still be involved in this mission albeit from another capacity," she added.
"This is an historic occasion for Fijiana being the team's first ever campaign in RWC. The opportunity to participate in this at not only our Pacific neighbours' home but a rugby powerhouse that has produced so many outstanding legends of the game is indeed inspirational."…
SOURCE: WORLD RUGBY/PACNEWS