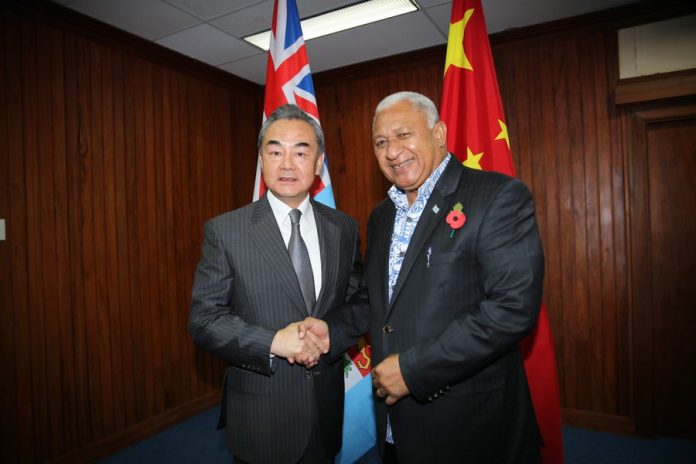 The State Councillor and Minister of Foreign Affairs of the People's Republic of China, Wang Yi, will visit Fiji from Saturday 28 May to Tuesday 31 May.
This will be State Councillor Wang's second visit to Fiji, the first was in 2018.
During his official visit to Fiji and the region this week, State Councillor Wang will be accompanied by a 21 member delegation.
During his visit, he will pay a courtesy call to the President of Fiji, Ratu Wiliame Maivalili Katonivere, and meet Prime Minister Frank Bainimarama to discuss current areas of cooperation and opportunities for future engagements.
Prime Minister Bainimarama will join State Councillor Wang to co-chair the 2nd China-Pacific Island Countries Foreign Ministers' Meeting.
State Councillor Wang's visit to Fiji reinforces Fiji and China's 47 years of friendly relations and enduring partnership, which was formally established in 1975.
The longstanding bilateral relations between the two nations is based on mutual understanding and cooperation which has continued to strengthen through the years including through reciprocal high level visits.
China's assistance to Fiji are in a number of sectors including health, agriculture, infrastructure, trade and investment, people to people exchange, sports, and education.
State Councillor Wang said he looks forward to his visit to Fiji. He believes that China-Fiji friendly cooperation is in conformity with the fundamental and long-term interests of both countries.
The visit will enhance mutual trust, promote all-sector cooperation to a higher level, and inject new impetus into the long-term development of China-Fiji relations.
He also expects that the 2nd China-Pacific Island Countries (PICs) Foreign Ministers' Meeting will play an important role in strengthening the China-PICs ties.
SOURCE: FIJI GOVT/PACNEWS