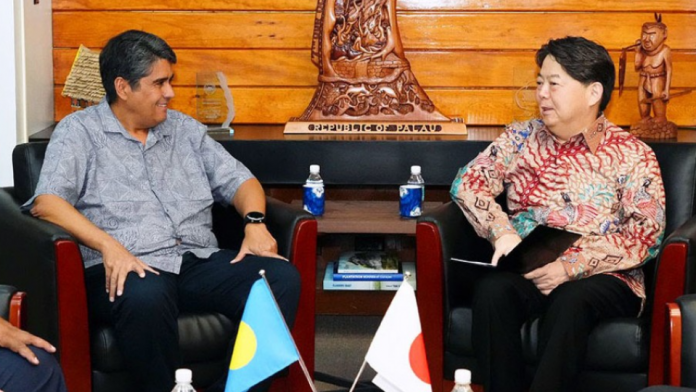 As one of the Indo-Pacific partners of Japan, Palau President Surangel Whipps Jr said the partnership should also include strengthening of economic security.
Japanese Foreign Minister Yoshimasa Hayashi made a short stop in Palau on Sunday where he met President Whipps with two leader agreeing cooperation to ensure a free and open Indo-Pacific region.
Whipps said he sees the visit of Hayashi as sign of beefing the diplomatic ties between the two countries.
"What's important is we need to strengthen our partnership. And the partnership doesn't just include the defensive security. It also includes economic resilience and economic security," Whipps said.
Part of ensuring economic security of Palau is more tourism from Japan and direct flights.
According to the Japan Ministry of Foreign Affairs (MOFA) Hayashi expressed concern about the signing of a security treaty between China and the Solomon Islands which he said would have considerable impact on regional security."
Minister Hayashi in his meeting with State Minister Gustav Aitaro also vowed to work closely with Palau in areas of agriculture and livestock industry, fisheries that include stable operation of Japanese fishing vessels in Palauan waters.
Japan is also committed to continuing work to collection remains of Japanese war dead.
Palau and Japan also jointly condemn Russia's aggression against Ukraine.
They also confirmed that they would continue to cooperate in responding to North Korea, including on the nuclear and missile issues, such as the series of ballistic missile launches including one on May 7, and the abductions issue, stated the MOFA statement.
Meanwhile, Japan's Foreign Minister Yoshimasa Hayashi attended the grand opening ceremony of the Palau International Airport terminal on Sunday.
The new Palau International Airport Terminal was constructed through the "Renovation, Expansion, and Management of Palau International Airport Project", the first public-private partnership (PPP) project in Palau and in the Pacific between Japan corporations and Palau government.
President Whipps Jr said the airport renovation is a public-private partnership (PPP) project supported by Japan.
With the increase in the number of tourists, the previous administration of Tommy Remengesau Jr. saw the need to overhaul the airport's facilities. The project involved the construction of a new departure terminal building and renovation of the existing terminal building, which will now be used for arrivals.
The cost of the entire project was approximately US$40 million.
The project was through the partnership with Sojitz Corporation, Japan Airport Terminal Co., Ltd. (JATCO) operator of Haneda Airport, Japan Overseas Infrastructure Investment Corporation for Transport & Urban Development (JOIN) and Palau government.
The airport expansion and renovation work were carried out by Taisei Corporation, the contractor for the project.
The improvement project was originally scheduled to be finished by mid-2020, however, the global pandemic and travel restrictions caused delays and was completed and went into partial service in December of 2021.
Minister Hayashi thanked Palau for its continuing ties with Japan and the airport improvement is an example of that strong relationship
SOURCE: ISLAND TIMES/PACNEWS