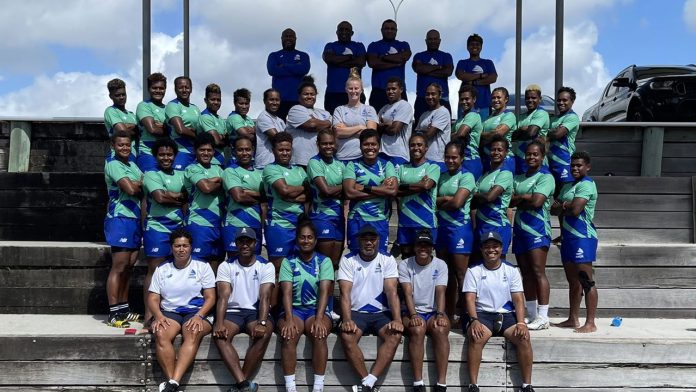 Sports watchers hope the Fijiana Drua's rousing Super W championship win can help usher in a new era of professionalism for women's sport in the Pacific, after the team powered its way to victory despite only picking up a sponsor after competition started.
The new Fijian team overcame a 69th minute deficit to deny the NSW Waratahs a fifth straight championship, running out 32-26 winners in the final in Melbourne.
The Drua managed the feat after being an extremely late entry into the 2022 season, having originally planned to join the competition next year.
They arrived in Australia ahead of their debut season with little fanfare on 15 February, with funding from Australia's Department of Foreign Affairs and Trade helping the squad travel to and base themselves in Australia for the competition.
Beyond that though, the sponsorship cupboard was bare, with local Fijian company Rooster Chicken coming on board a couple of weeks into the season.
Oceania Rugby's sole female representative on the World Rugby Council, Cathy Wong, said everything happened very quickly.
"Obviously, it means the team, the whole preparation, like any business concept, the whole business concept was not ready. But in saying that it was also an opportunity. So rather than to [say] 'We're not ready', they took up the opportunity."
On top of that, Cathy Wong said, being a women's team, the Fijiana Drua faced other ingrained challenges.
"In terms of the men and the women's team, the men have been professional since 1995," she told Pacific Beat.
"The woman's team, not only in rugby, [but] other sports — tennis, golf, professional sports — inequality, it still exists. I'm not saying it doesn't exist, it's there. But it's how we deal with it."
Lecturer in sport marketing at Edith Cowan University, Dr Ashlee Morgan, said while there was less media coverage and sponsor interest in women's sport, the situation was changing.
"So the relationship between women, the global sport, economy and sport fandom, is really shifting," she told Pacific Beat.
"And so we're seeing more women visible as fans, broadcasters, celebrity athletes and media personalities. So that is really driving commercial interest in women's sport."
Dr Morgan said smart businesses were also identifying the unique message that sponsoring a women's team can provide.
"What women's sport provides is one of the convergence of corporate social responsibility and commercial benefits for sponsors. So it's sort of looking at closing the gender gap, but then also providing commercial benefit," Dr Morgan said.
At this stage, Rooster Chicken are still Fijiana's only sponsor, but its CEO Stanley Raniga said that was sure to change.
"I think many companies should and will. Because this is our women's team. And now they've gone on to represent Fiji, as Fijiana, in the Test matches against Japan in Australia and then the World Cup," he said.
"I'm sure the win will attract a lot more sponsors," he said.
SOURCE: ABC/PACNEWS