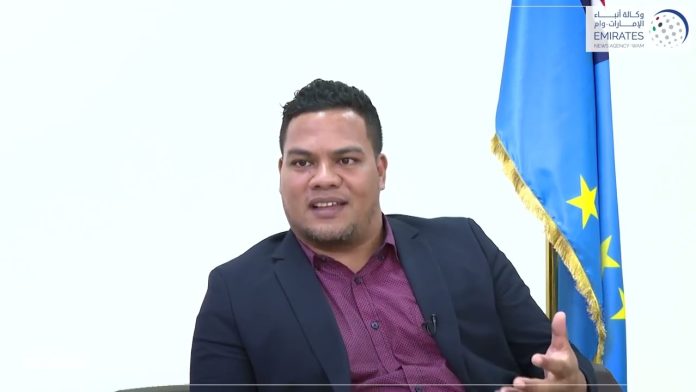 By Dionisia Tabureguci
Tuvalu's revenue share from the management of its dotTV Internet domain name asset will now be based on the number of people purchasing the namespace instead of an annual flat fee.
The new deal has been described as a "game-changer" by Tuvalu's Minister for Justice and Foreign Affairs Simon Kofe, who led a government delegation to Dubai last month where the signing of the new dotTV registry licensing agreement with GoDaddy took place.
"We recently signed a new registry licensing agreement with GoDaddy Registry, switching dotTV from Verisign to GoDaddy. This transition period is currently ongoing and will potentially be completed later this year. The signing of the new registry licensing agreement is a game-changer. It will allow Tuvalu more control over how dotTV is managed and potentially a great deal more revenue because we will not earn a set fee every year as we were under our previous agreement but will instead earn revenue based on how many people are purchasing dotTV domain names. As you know, dotTV is extremely popular because it is linked to TV and streaming services so the new revenue plan is critical for us," Kofe told PACNEWS.
"The new agreement is key for the Future Now Project because it is a major part of our digital nation activities and our drive to see Tuvalu as a major digital player and nation with fully digitized administrative services, archives, etc. The additional revenue earnings we project from the new agreement will, of course, also be funnelled toward Tuvalu's efforts to future proof itself against the worst impacts of climate change," Kofe said.
An archipelago of nine inhabited low lying coral islands with a population of around 11,000, Tuvalu hit Internet jackpot in 1995 when it was assigned dotTV by the International Organisation for Standardisation, which created and maintains the Internet country codes under its ISO 3166 list.
In 2001, the Internet registry giant Verisign bought the right to manage the domain name in a 20 –year contract for a flat fee of US$5 million a year.
It oversaw the evolution of dotTV into an important domain namespace in the online television market which earned it over US$25million annually based on around 500,000 customers paying an average subscription fee of US$50 a year.
Verisign however did not bid for contract renewal when it expired last year.
Forced by real threats from rising seas, Tuvalu has initiated preparations for a worst case scenario in its recently unveiled "Future Now" project, where it will digitize and preserve as much about itself as possible before it is completely submerged.
"Tuvalu is a low lying atoll island, the highest point is four meters so you can imagine the impacts of just a centimeter of sea level rise. During king tides, the water actually seeps through the ground and about 40 percent of the area of the capital is actually underwater. We are also seeing stronger cyclones now, droughts and the climate patterns have changed as well, so all that affects Tuvaluans living in Tuvalu and by looking at what the scientist are telling us, we are heading for a disaster, if we're not already in it," said Kofe.
Under its "Future Now" project, which has four broad initiatives, Tuvalu has embarked on securing international recognition of its statehood as permanent and its existing maritime boundaries as fixed despite the effects of sea level rise and climate change on Tuvalu's land territory.
Two countries – Venezuela and St. Kitts and Nevis – have recently signed bilateral agreements with Tuvalu recognising this.
SOURCE: PACNEWS