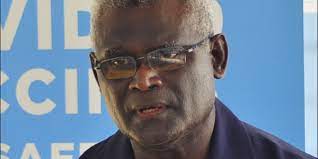 The Solomon Islands Government is taking the advice of the Governor General, Sir David Vunagi seriously on matters relating to the deferment of the dissolution of the 11th Parliament, Prime Minister Manasseh Sogavare told Parliament.
Prime Minister Sogavare stated, "the Governor General outlined four options regarding this issue;
i. Early dissolution of Parliament as early as May and hold a snap election.
ii. Hold the National General Election in 2023 as scheduled.
iii. Defer the National General Election from 2023 to 2024.
iv. Permanently increase the term of Parliament from four to five years."
The Prime Minister said political opponents are accusing the Government of trying to hang on to power for one more year and benefit from rural constituency development fund (RCDF) and other perks.
He said beyond these petty politics, the government has the mandate to come up with policy matters whenever the need arises, and that is what his government has done. There is a process in place and the government has followed this process.
"The Government is taking the advice of His Excellency seriously on how to advance this matter forward."
At the end of the day it is about doing the right thing, and not to be moved by the emotions of some people who are only interested in their own narrow agendas, said PM Sogavare.
SOURCE: SOLOMON WIRES/PACNEWS