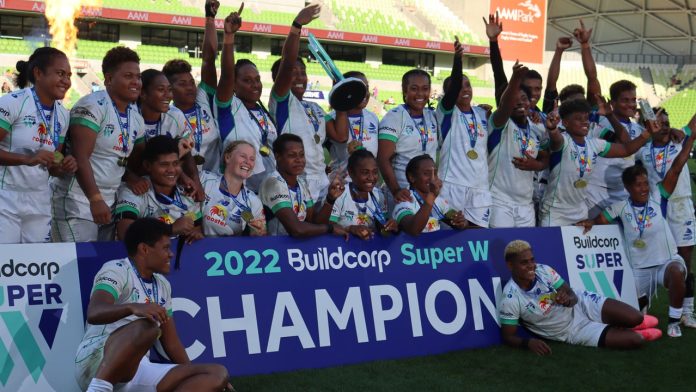 The Fijiana Drua have claimed the Super W title in a thrilling 32-26 victory over the NSW Waratahs at AAMI Park.
The game went down to the wire as the Waratahs staged a comeback, with NZ import Natalie Delamare crossing for a hat-trick.
However, the Drua refused to give up and backed by a strong Fijian crowd, hit the front with nine to go through Timaima Ravisa.
Vitalina Naikore sealed the win minutes later to claim her own hat-trick in the perfect advertisement for Rugby.
With both teams evenly matched to start the game, neither attack could finish their chance as the brutal defence shined in the opening quarter.
Having gone down in their previous clash, the Waratahs' focus on dominating via the set-piece saw Vika Matarugu sent for ten as the Drua struggled to stop the rolling maul.
The decision to opt for a 5 metre scrum came back to haunt Campbell Aitken's side when an errant loose ball allowed the Fijians to flip the field and eventually cross for the first try through Vitalina Naikore.
Natalie Delamare found a response four minutes later but two quick tries to the Drua, including a great kick pass from Merewalesi Rokouono to Kolora Lomani allowed them to build a 17-5 lead.
Delamare and the Waratahs' rolling maul got them back into the contest with tries before and after the break as they took a slender two-point lead.
The Drua threw everything at a brave Waratahs defensive line as Wallaroos Emily Chancellor and scrumhalf Illseva Batibasaga snagged turnover after turnover.
Eva Karpani's injection came at the perfect time for the defending champions to storm into the lead with 14 minutes to go.
However, the Fijiana Drua kept applying pressure with their trademark fast-tempo game as their electric supporters willed them over the line.
It took a piece of brilliance from fullback Timaima Ravisa to break the game open, racing away and somehow ducking under a Mahalia Murphy tackle to put the Drua back in front.
With momentum on their side, Naikore's third sealed the result and the championship for the Drua as they celebrated in emotional scenes at AAMI Park
DRUA 32
TRIES: Naikore 3, Radiniyavuni, Lomani, Timaima Ravisa
CONS: Rokouono 0/4, Naikore 1/2
WARATAHS 26
TRIES: Delamare 3, Karpani
CONS: Cramer 3/4
FIJIANA DRUA V NSW WARATAHS TEAMS
FIJIANA (1-15): Joma Rubuti, Vika Matarugu, Bitila Tawake (c), Jade Coates, Merevesi Ofakimalino, Karalaini Naisewa, Ema Adivitaloga, Sereima Leweniqila, Rusila Tamoi, Merewalesi Rokouono, Vitalina Naikore, Raijieli Laqeretabua, Roela Radiniyavuni, Kolora Lomani, Timaima Ravisa
RESERVES: Keleni Marawa, Mereoni Naositava, Sera Seini Ravatude, Akosita Ravato, Teresia Tinanivalu, Rejiele Uluinayau, Vani Arei, Younis Bese
WARATAHS (1-15): Emily Robinson, Natalie Delamere, Bridie O'Gorman, Kaitlan Leaney, Sera Naiqama, Piper Duck, Emily Chancellor, Grace Hamilton, Illseva Batibasaga, Arabella McKenzie, Lori Cramer, Pauline Piliae, Georgina Friedrichs, Margot Vella, Mahalia Murphy
RESERVES: Faliki Pohiva, Adiana Talakai, Eva Karpani, Sabine Blakeman, Ella Koster, Nicole Nathan, Tatum Bird, Layne Morgan.
SOURCE: RUGBY.COM.AU/PACNEWS