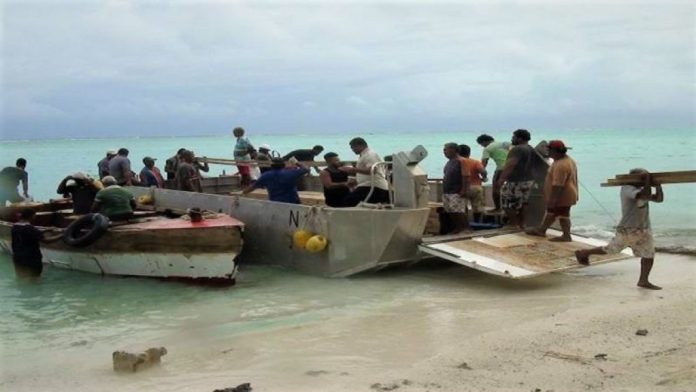 Maritime transport infrastructure in Tuvalu's outer islands will get a major upgrade over the coming years, with the World Bank's Board of Executive Directors approving an AUD$62.6 million (US$46.5 million) grant to support Tuvalu's efforts to upgrade and increase the resilience of its maritime infrastructure.
Set to be the largest-ever World Bank project in Tuvalu, the Maritime Investment in Climate Resilient Operations II (MICRO2) Project will build and upgrade vital maritime infrastructure such as harbours, passenger terminals, cargo facilities and roads – including safe berthing facilities on the islands of Nanumanga, Nanumea and Nukufetau – and provide technical support to the Tuvalu maritime transport sector.
The MICRO2 Project will also expand on the Geographic Information System (GIS) mapping work that was initiated in the first Maritime Investment in Climate Resilient Operations (MICRO) Project. This includes collecting and recording the location and needs of vulnerable populations across more islands in Tuvalu to improve decision making; and strengthen disaster preparedness and response in the outer islands, especially for persons with disabilities and the elderly. The project also includes support for a health outreach campaign that will help bolster community resilience by better understanding and sustainably managing food supplies in outer islands.
"Working with the World Bank on MICRO2 allows us to draw on the experiences of other Pacific Island countries that are improving the climate resilience of their transport infrastructure," says Tuvaluan Minister of Finance, Seve Paeniu. "Tuvaluans rely on the maritime transport system for their survival; with sea level rise, coastal erosion and recent disasters having left many of our citizens at risk of being cut off from the goods and services they need the most.
"MICRO2 will help improve connectivity between outer islands and help us to systematically strengthen climate resilience within Tuvalu."
Tuvalu is considered one of the most economically and environmentally vulnerable countries in the world, and is heavily exposed to climate change and other natural hazards such as floods, droughts and tropical cyclones that continue to damage and destroy critical transport infrastructure; just as Tropical Cyclones Pam and Tino did in 2015 and 2020 respectively. Most of Tuvalu's population of nearly 12,000 people lives across nine islands, and rely on inter-island vessels to access schools, hospitals, and other vital services, as well as for food, building materials, hygiene products and emergency supplies that are delivered every one to three weeks.
"Safe, secure and resilient transport infrastructure is vital for ensuring all citizens can access clinics, hospitals, schools, food and medicine," said Lasse Melgaard, World Bank Resident Representative for the South Pacific.
"With strengthening climate resilience one of the Tuvalu Government's key priorities, we're pleased to be able to build on our experience through similar work across the Pacific to help connect communities and outer islands in Tuvalu through more resilient maritime infrastructure."
The new project – which forms part of the World Bank's overarching Pacific Climate Resilient Transport Program for a stronger transport network – comes on the back of a recent Agreement between Tuvalu and the World Bank; one that has paved the way for an increase in support.
The Maritime Investment in Climate Resilient Operations II project is funded through a US$46.5 million grant through the International Development Association, the World Bank's fund for the world's most in-need countries.
SOURCE: WORLD BANK/PACNEWS