The Secretariat of the Pacific Regional Environment Programme (SPREP) announced two senior appointments to the Directors for its Environmental Monitoring and Governance (EMG) Programme and the Waste Management and Pollution Control (WMPC) Programme.
Jope Davetanivalu is appointed the Director of the EMG while Faumuina Anthony Talouli is the Director of WMPC. The appointments followed a rigorous, competitive, and merit-based selection process.
In congratulating the Director appointees, SPREP Director General, Sefanaia Nawadra, said.
"Both Jope and Tony bring with them years of strategic and programmatic leadership with experience across the region and I look forward to working with them as members of SPREP's Senior Leadership Team providing leadership, management, and guidance for their respective programmes and the organisation as a whole," Nawadra said.
Davetanivalu, a Fijian national, is no stranger to SPREP, having been with the organisation since 2013. He joined the Secretariat as the Planning and Capacity Development Adviser from 2013 to 2017, before becoming the Environmental Planning Adviser and has been the Acting Director of the EMG Programme since February 2021.
Davetanivalu brings with him a wealth of knowledge and expertise on environmental and health issues specialising in environmental impact assessment and development control, having graduated from the University of Western Sydney, Australia with a Bachelor of Environmental Health and a Master of Environment Management. Prior to joining SPREP, he worked for the Department of Environment in Fiji as a Principal Environment Officer from 2006 to 2009, and as the Director of Environment from 2009 to 2013.
"I am deeply honoured to be appointed to this position and will be looking forward to work with other programmes at SPREP, and the partners in order to serve the needs of SPREP members," Davetanivalu said.
The newly appointed Director of WMPC, Faumuina Anthony Talouli, is a Fijian of Samoan descent and is a graduate of the Royal Melbourne Institute of Technology, Australia, from whence he received a Bachelor of Engineering.
He held various positions with Shell Fiji from 1998 to 2007, including Terminals Manager; Health, Safety, Security, Environment Manager; and Project Engineer and Analyst. He joined SPREP in 2007 as the Pollution Adviser, a role he has continued to serve in while also carrying out additional duties as the Acting Director of WMPC since 2020.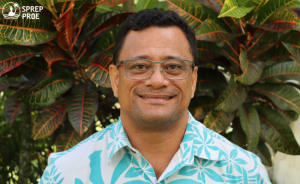 "I am delighted to be called to serve our Pacific People," Talouli said.
"It is a privilege and honour and I thank God for this opportunity. I would like to acknowledge the support from my family, friends and colleagues. I have a fantastic and highly competent WMPC Programme team and together we look forward to working with Sefa and the SPREP Leadership to address waste and pollution matters for Members in collaboration with all partners."
Both Directors started in their new roles upon appointment, and carry with them the congratulations and support of all SPREP staff.
SOURCE: SPREP/PACNEWS