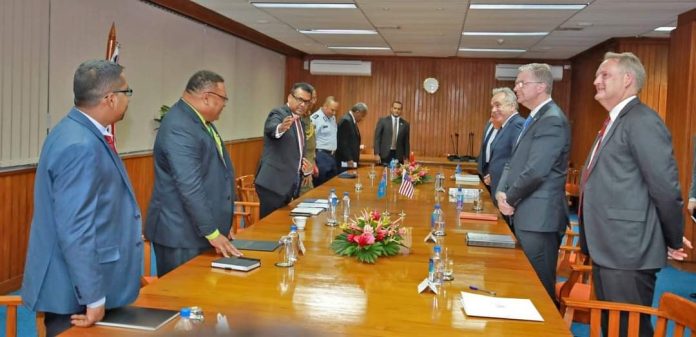 Fiji's Permanent Secretary for the Office of the Prime Minister and Foreign Affairs, Yogesh Karan Wednesday chaired a security dialogue with the high-level United States delegation to discuss areas of mutual interests, particularly, cooperation on defence and security.
The dialogue also focused on platforms aimed at deepening the level of engagements for promoting a peaceful and unified region.
The U.S delegation was led by the Deputy Assistant to the President and the United States National Security Council Indo-Pacific Coordinator, Kurt Campbell.
Campbell, at the meeting, acknowledged the Fijian hospitality they warmly received upon arriving into the country, adding it was a reflection of solidarity and genuine partnership.
The National Security Council Indo-Pacific Coordinator informed the Fijian delegation that they are now having more engagements with international partners on a range of common issues that have been highlighted during these discussions.
These include the impacts of the geopolitical situation between Russia and Ukraine, Indo – Pacific situation, assistance in the areas of technology, education, support for mutual engagements such as COVID-19 assistance, and mutual cooperation in the areas of defence.
Commenting on Fiji-U.S relations, Campbell said they are committed to strengthening bilateral and regional cooperation with Fiji and the Pacific and also have more frequent dialogue with the Pacific Leaders.
At the meeting, the U.S also assured Fiji of its support towards matters of national security in the country and will be engaging more with our defence forces.
Permanent Secretary Karan, said in response, that Fiji also looks to the U.S for assistance in the area of information-sharing which would greatly assist in curbing the movement of narcotics within Fiji's economic exclusive zone (EEZ).
The Permanent Secretary said that Fiji would like to strengthen this area with its international counterparts.
Fiji also commended the U.S for its support in terms of funding access provided to the World Bank and ADB which was expressively demonstrated post COVID-19.
Campbell assured the Fijian delegation that the U.S will be working with the World Bank and ADB on green climate funding to help support the Pacific region.
Meanwhile, both the parties have agreed for a second round of dialogue later this year in Fiji.
SOURCE: FIJI GOVT/PACNEWS