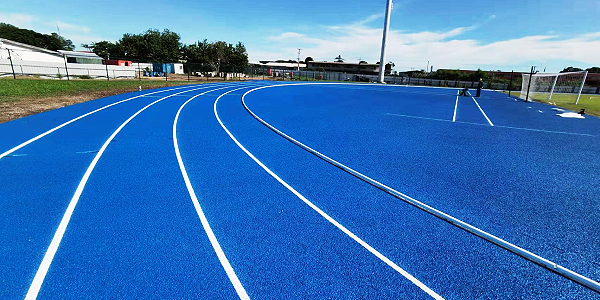 Athletes will soon use Solomon Islands's first ever synthetic training running track built at the King George Sixth School site, East Honiara.
According to a recent report from the 2023 Pacific Games Stadium Project, the running track and football field is completed and ready to be used.
"It's more than thrilled to announce that with the concerted efforts both by contractor CCECC and project management enterprise CSADI, the China-Aid 2023 Pacific Games Stadium Project Practice Track and Football Field Site located in KG school site has been literally completed and just about to hand over to Solomon side for the athletes to hone their skills," the statement confirmed.
The completion of this international criteria sports stadium symbolises a further step forward of friendship between China and Solomon Islands and it comes closer for Solomon Islands people to realise the dream to host 2023 Pacific Games.
This will be the first 2023 Pacific Games sports facility to be completed for athletes to use.
The National Hosting Authority (NHA) Chairman, Dr Jimmie Rodgers last month revealed that new running track and football field will probably be handed over by mid this month.
The new Futsal complex facility which is funded by Indonesia will also be handed over later in the year.
Most of the facilities will be ready by June next year, including the new Solomon Islands Football Federation (SIFF) Academy.
Work on all sports facilities is currently on track and in full swing.
Other facilities including the national sports stadium is supported by the Government of the Peoples Republic of China.
SOURCE: SOLOMON STAR/PACNEWS