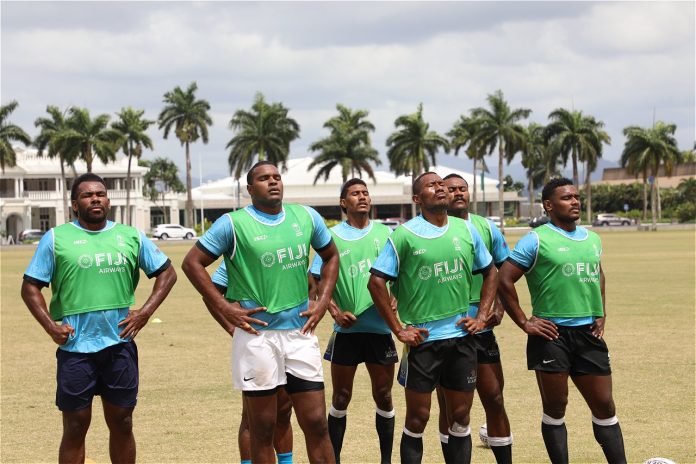 Four debutants have been named in the 13-member Fiji 7s team for this month's Singapore and Vancouver 7s.
Army halfback Filipo Bukayaro, sensational Fire speed merchant Vuiviawa Naduvalo, lanky winger Tira Wilagi and Police Blue forward Josevani Soro are the new faces in the team announced Thursday.
Wardens forward Tevita Daugunu will captain the side and he will be assisted by Waisea Nacuqu.
Two-time Olympic gold medalist Jerry Tuwai will also return to the international stage after almost nine months.
This is the first team selected by Ben Gollings since he was appointed as the Head Coach in December.
Gollings had enough time to gauge the capability of the players through the Fun Flavour Super 7s Series and the Fun Flavour Fiji Rugby Mini International 7s which included New Zealand and Australian 7s teams.
He said having a 30-men-squad and seeing them perform in the local tournaments has really helped.
"We have had a really good look at these players and see how they performed and overall I was happy with each and everyone's performance which certainly made the selection tricky."
"We are so fortunate tournaments such as the Fun Flavour Super 7s Series being played in Fiji and also having New Zealand and Australia coming to play here has been so valuable in our development as a squad."
"I believe it's a good mix of young and experienced players. We need experienced players as it helps bring the team together and helps develop the inexperience therefore players such as Jerry Tuwai, Josua Vakurinabili and Waisea Nacuqu have played a vital role in the team.
"Then we got the likes of Pilipo Bukayaro playing at halfback who is been fantastic and really grown in the last few tournaments."
"Vuiviawa Naduvalo has been brilliant and has developed into an exciting player. Tira Wilagi and Josevani Soro have also been at their best so far" said Gollings.
The Fiji Airways Fijian 7s team departs for Singapore on Monday.
The Singapore 7s will be held on the 9th and 10th of April while the Vancouver tournament will be played on the 17th and 18th of next month.
Fijian 7s squad for Singapore and Vancouver 7s- Josua Vakurinabili, Joseva Talacolo, Jeremaia Matana, Tevita Daugunu (C), Elia Canakaivata, Iowane Raturaciri, Filipo Bukayaro, Waisea Nacuqu (V/C), Jerry Tuwai, Iowane Teba, Kaminieli Rasaku, Vuiviawa Naduvalo, Josevani Soro, Tira Wilagi.
SOURCE: FIJI LIVE/PACNEWS