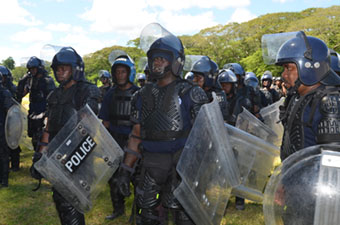 Armed Solomon Islands police and foreign troops will be deployed inside and outside the Parliament House from today when Parliament begins its budget session, it was revealed Saturday.
Police Commissioner Mostyn Mangau reportedly briefed the Chairman of the House Committee about the unprecedented move earlier last week.
The move which has the potential to ignite a public backlash, similar to last November's rioting, looting and burning of parts of Chinatown, Kukum and Ranadi, could end up the same way.
It is not clear how many officers would be deployed in the proposed special operation, which would go on for the duration of the Parliament meeting.
Despite so many unanswered questions regarding the legality of the operation, it has been approved. It marks the first time armed police will be deployed inside and outside the Parliament House.
News of the police operation has resulted in some companies advising their employees to remain at home on Monday.
Members of the House Committee reportedly asked Commissioner Mangau why such an unprecedented step had to be taken.
"What is the security threat level, particularly to Members of Parliament," the Commissioner was reportedly asked.
"Low," he reportedly told the House Committee. "Why then is it necessary to deploy armed police to Parliament," he was asked.
The Commissioner remained silent on the question.
In a Police Media statement Friday, it was revealed that the Royal Solomon Islands Police Force (RSIPF) and Solomons' International Assistance Force (SIAF) have been preparing for "Operation Parliament" and are in the final stages of preparations.
Teams have been briefed and are equipped to provide a safe and secure sitting of Parliament this week.
Commissioner of RSIPF Mostyn Mangau is reminding members of the public that people involved in activities such as rioting, looting and unlawful assemblies will be held to account by the justice system of the Solomon Islands.
RSIPF are prepared with our partner agencies from SIAF to conduct a safe joint Operation Parliament over the coming months. I encourage anyone with information regarding organisers or facilitators of violence, criminal or unlawful assemblies, to come forward to RSIPF with their information.
Operation Parliament will include specialist teams from AFP, SIAF and RSIPF deployed for the sitting period, RSIPF and AFP will have members conducting proactive patrols and road blocks actively dealing with any public order issues swiftly as we support a peaceful sitting period.
The operation will provide security, protection and a response capability to any unrest during the Parliamentary sitting period. RSIPF POM members from Central Response Unit (CRU), Provincial Response Unit (PRU) and Police Response Team (PRT) will join forces with AFP members from Tactical Response, RAPPP, SIAF and AFP special members Public Order Response Squad (PORS) supported by the RSIPF frontline members, and members from the Royal Papua New Guinea Constabulary (RPNGC), and New Zealand Police, with additional support from the Multinational Police Support Group (MPSG) including New Zealand Defence, Republic of Fiji Military and Australian Defence Force (ADF) members .
Commander Osborne DC-SIAF reinforced the message that teams have been preparing for the Operation Parliament over the past month. Honiara including the areas east and west of the city will be saturated with 24/7 SIAF and RSIPF patrols including road blocks that will be supported by aerial surveillance. There will be a zero tolerance policy to instigators of violence or unrest.
The Commissioner RSIPF echoed this message and appealed to community and church leaders to support RSIPF in delivering a safe and peaceful Operation encouraging members of their communities to support the democratic processes here in Solomon Islands and to listen to RSIPF directives as noncompliance to security arrangements by the public will be dealt with force to protect the community from further unrest.
It was also revealed that Commissioner Mangau was not taking chances following last November's costly riots, when police were blamed for what followed.
According to one account, the rioting, looting and burning that followed was sparked by police firing teargas at the crowd after the Parliamentary Leaf House was set on fire.
Members of the public – largely young people – unsuccessfully demanded Prime Minister Manasseh Sogavare step down immediately. Sogavare ignored the call.
Four days of rioting, looting and burning later had left half a billion dollars' worth of damage to the nation's economy, according to an assessment by the Central Bank of Solomon Islands (CBSI).
SOURCE: SOLOMON STAR/PACNEWS