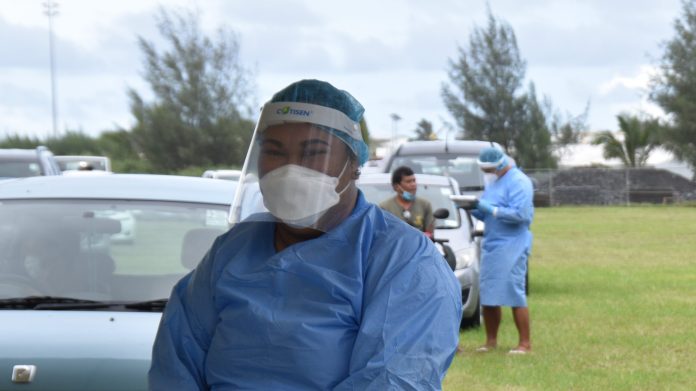 Household contacts may be able to work in the future by taking daily Rapid Antigen Tests (RAT) prior to going to work, says Cook Islands Prime Minister Mark Brown.
Prime Minister Brown said he was finding out from Te Marae Ora Ministry of Health (TMO) if it could work.
As well as the RAT before work, he said positive cases in the household would be separated from the essential worker inside the house. A household contact is someone who is living with a person with Covid-19, under the current rules they are required to isolate.
"At this stage, we're not doing that at the moment, it will require households to stock RAT tests at home and there's still risks that those households will be infected when they do come out," Brown said.
"It will be certain key people that will be needed to able to get out and work.
"We've had a couple of households where the positive contact have stayed in for seven days and the rest of the household stayed in for seven days and none of them returned positive, all of them returned negative.
"At the moment we have discussed it but it's not going any further than that as yet."
Brown said the need for essential workers was "much more pressing" as more people were being infected.
The Prime Minister said he would be open to assessing which household contacts would be allowed to work on a case by case basis.
"It makes big difference for a number of small businesses to allow people to go back to work or otherwise they essentially have to close for a week and we're seeing that already."
Cook Islands had 72 new Covid-19 cases, bringing the total number to 672.
Brown said he thought the cases were not spiking as fast as he would have thought.
"I thought by the end of this week we would be up to a thousand cases," he said.
"I think we are doing alright, it's not spiking as fast as it would but there's no doubt it is circulating and I understand a lot of it is now being circulated by school-aged children, who are taking it into the household and the whole household has to isolate."
Brown said he did not think schools would close completely.
"I think what we will see is teachers who have been isolating who have tested positive will recover within seven days, then they will be back at school, so I think the schools will continue on as much as possible without wanting to actually shut down," he said.
SOURCE: COOK ISLANDS NEWS/PACNEWS