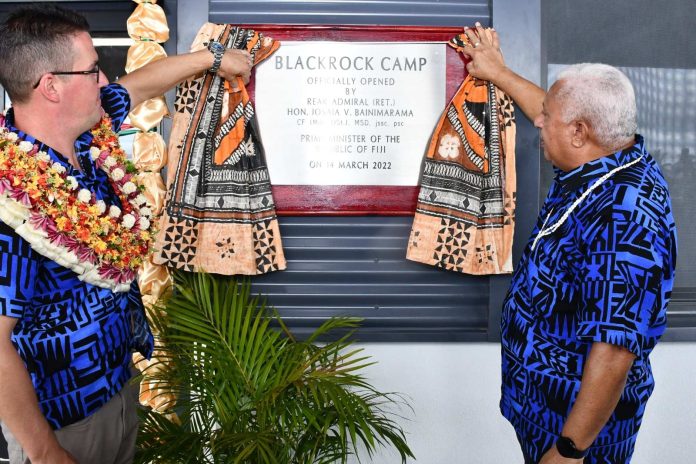 Australian Prime Minister Scott Morrison and Prime Minister Frank Bainimarama today announced the official opening of the redeveloped Blackrock Peacekeeping and Humanitarian Assistance and Disaster Relief Camp in Nadi, Fiji.
Prime Minister Morrison said Australia was proud to call Fiji our partner, our friend and our family, and that Blackrock stood as testament to the strength of the bilateral relationship.
"The collaboration between the women and men of our armed forces and our officials in redeveloping Blackrock Camp has demonstrated the character of our broader relationship, and the values of family, mutual respect and mateship that underpin it," Prime Minister Morrison said.
"This state-of-the-art facility will enhance Fiji's peacekeeping and humanitarian assistance and disaster relief capacity, and ensure intent is matched with resources to meet the common challenges and security of our shared region."
"It has become the norm for Fiji and Australia to back each other – and our broader Pacific family – at times of crisis. Blackrock Camp will now serve as a training and regional response hub for both disasters
response and peacekeeping missions."
Prime Minister Bainimarama thanked the Australian Government for its commitment to the project, and to deepening the relationship between the Republic of Fiji Military Forces and the Australian Defence Force.
"The Blackrock Training Camp is a testament to the peace-loving spirit of Fijians and the security and prosperity that Fiji and Australia strive for across the Pacific and throughout the world. This world class training centre will ensure that Fijian peacekeepers are trained and equipped to uphold Fiji's 47-year legacy of defending the defenceless in the world's conflict-ridden regions," Prime Minister Bainimarama said.
"Blackrock will also serve as the regional launching pad for joint deployments that put Fijian and Australian troops at the front line of the climate war raging throughout the Pacific. Our campaign to respond to the super-storms, floods, rising seas, bush fires, and other climate-driven disasters will not be won by guns, ammo, and artillery, but by seawalls, resilient infrastructure, and cutting-edge technology –– we look forward to continually building our joint capacity to respond to these new threats together."
Australia's investment in Blackrock Camp provides a strong foundation and model for other security infrastructure collaborations in Fiji.
Australia and Fiji are currently working together to upgrade the Republic of Fiji Navy's Stanley Brown Wharf, which will house Fiji's two Guardian-class Patrol Boats, and construction will shortly begin on
a Maritime Essential Services Centre to be built in Suva.
These joint projects inject significant funds into the local economy and create jobs across Fiji.
Fiji and Australia are committed to working shoulder to shoulder with our Pacific family to advance our shared goals for a secure, stable, and resilient region.
The Republic of Fiji Military Forces and Australian Defence Forces are currently co-deployed on operations in Solomon Islands and Tonga and as a part of Operation Flood Assist in Australia.
Prime Minister Morrison participated virtually in the opening ceremony. He was represented in person by Minister for International Development and the Pacific Senator Zed Seselja, as well as Vice Chief of the Australian Defence Force, Vice Admiral David Johnston, and Secretary for Defence, Greg Moriarty.
SOURCE: AUST GOVT/FIJI GOVT/PACNEWS