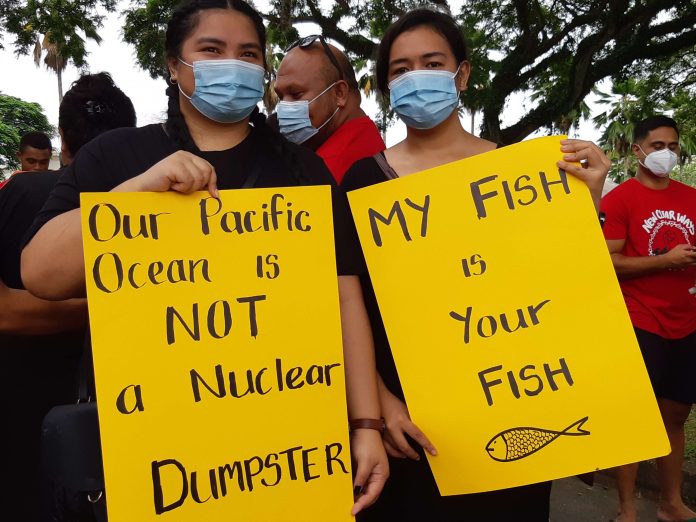 By Nic Maclellan
Hundreds of students at the University of the South Pacific in Suva rallied to remember nuclear survivors around the region on 01 March, the anniversary of the U.S Bravo nuclear test on Bikini Atoll.
Marching through USP's Laucala Bay campus to a meeting addressed by Forum Secretary General Henry Puna, they called for nuclear disarmament and an end to nuclear waste dumping in the Pacific. The steadfast resilience of Pacific nuclear survivors was captured in the rally's theme "Kone Jubar" (strongly rooted as ironwood in the Kajin Mājol language of the Republic of Marshall Islands).
Each year, Marshallese commemorate Nuclear Survivors Remembrance Day on 1 March, the anniversary of the 1954 US nuclear test on Bikini Atoll, codenamed Bravo. This atmospheric test, with a yield of 15 megatons, was the largest ever conducted by the United States, just one of 67 nuclear tests at Bikini and Enewetak atolls between 1948 and 1958.
Successive U.S governments have acknowledged the damage to four northern atolls ­– Bikini, Enewetak, Rongelap and Utirik – from nuclear testing in the Marshall Islands. But in May 1994, the U.S Department of Energy released more than seventy boxes of newly declassified documents, revealing that the fallout from Bravo and other tests had spread much more widely than Washington had previously acknowledged. For fifty years, US governments had hidden the fact that fallout from the Bravo test had reached other atolls, including Ailuk, Likiep, Wotho, Mejit and Kwajalein.
Today, Bikini and other atolls are still contaminated with hazardous levels of radioactive isotopes such as caesium-137 that can enter the food chain. The RMI National Nuclear Commission continues to seek clean-up and compensation from the US government.
My fish is your fish
In 2019, RMI students at USP in Fiji formed the Marshall Islands Students Association – MISA4the Pacific – to commemorate the Bravo anniversary in Fiji and share information about their homeland with USP students from across the region.
Since then, the annual event has grown and MISA's "My fish is your fish" campaign has highlighted the danger of nuclear contaminants for the wider Pacific Ocean. At this week's rally, students waved posters about leakage of radioactive isotopes from the Runit Dome on Enewetak atoll and Japan's current proposal to dump ALPS treated radioactive wastewater into the Pacific from the stricken nuclear reactors at Fukushima.
Speaking to the post-rally meeting, RMI charge d'affaires in Fiji, Rina Keju congratulated the work of USP students to highlight nuclear challenges around the region, and stressed the need for the United States to act on nuclear legacies in the Marshall Islands.
"Today, we continue to live with the cancers and health and environmental impacts of nuclear testing," she said. "Many of our people – elders and young alike – are left untreated and undiagnosed cancers. Yet we continue to fight for nuclear justice along with fighting for climate justice and now fighting the COVID pandemic."
In his keynote address to the meeting, Secretary General of the Pacific Islands Forum Henry Puna condemned the "wilful arrogance of powers beyond our region", who conducted nuclear tests at ten sites across Oceania.
"We are forced to remember the fifty-year period from 1946 to 1996, the Cold War era, when colonial superpowers treated our Blue Pacific as a playground for their nuclear arms race," said Puna. "This involved the detonation of over 300 nuclear devices, resulting in fallout that was dispersed and detected throughout all corners of our region."
Recognising the current conflict in Ukraine poses "a clear and present danger" of nuclear escalation, the Forum Secretary General said: "We together must reverse this political tide. Now more than ever, we must reaffirm and stand with peace through international law, international co-operation and the elimination of all nuclear weapons."
Action on nuclear clean-up
After the recent visit to Fiji by U.S Secretary of State Anthony Blinken, the United States has pledged increased support to Forum island countries and action on climate change. While welcoming this support, Secretary General Puna highlighted the importance of cleaning up nuclear contaminants in Marshall Islands, including hazardous isotopes that might leach into the marine environment from the Runit Dome.
"America is claiming to be our friend," Puna said, "Let us put them to the test. If they are indeed our friends, let's ask Joe Biden and the government of the USA to come and clean it up."
As nuclear weapons states modernise their arsenals and Russia raises its nuclear alert levels, Seini Bukalidi of the Pacific Islands Association of Non-Government Organisations (PIANGO) highlighted the lived experience of islanders during Cold War tensions.
"This week, President Putin announced that he was willing to use nuclear weapons on Ukraine," she said. "To us, nuclear deterrence is a fiction. Pacific and indigenous people know all too well the brutal consequences of nuclear war firsthand, with 315 nuclear weapons being tested across the Marshall Islands, Australia, Kiribati, Maohi Nui by the U.S, UK and France respectively since 1946."
Bukalidi welcomed the ratification of the Treaty on Prohibition of Nuclear Weapons (TPNW) by ten Forum member countries. She is one of five young Pacific activists who will travel to Austria in mid-2022, to carry the voice of the Pacific into the first Meeting of States Parties for the global nuclear ban treaty, which entered into force in January 2021.
She encouraged USP students to follow the path forged by elders and nuclear survivors, to create new networks across the Moana: "We the next generation, our generation, will join forces like those who have ridden the waves before us. We are humbled to be learning more about this shared history of resistance from our Marshallese, Kiribati, Maohi Nui and Aboriginal brothers and sisters."
Co-chair of the meeting Luke Carlos from Federated States of Micronesia stressed the importance of a new generation learning about nuclear legacies in the Pacific.
"Today we show the world that we will never forget, we will never stop fighting," he said. "We invite you to remain strongly rooted as ironwood in the fight for a nuclear free and independent Pacific," said Carlos.
SOURCE: ISLANDS BUSINESS/PACNEWS