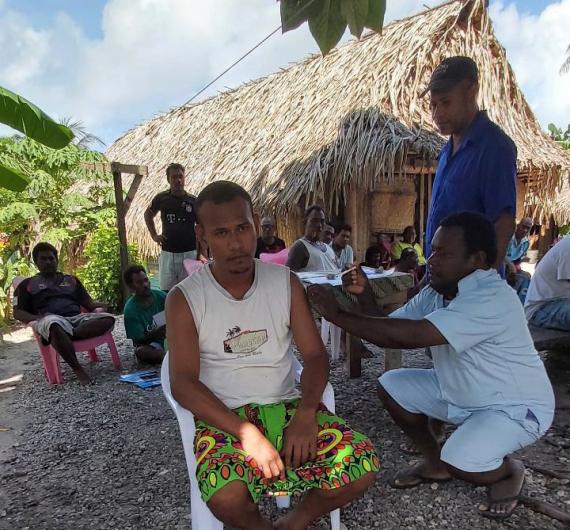 Only 9.9 percent of elderly people in Solomon Islands are fully vaccinated while only 33.8 percent have had their first dose.
This was confirmed by Prime Minister Manasseh Sogavare in his latest national address delivered on Friday.
"We encourage families to help the elderlies including those with terminal illness, disability to reach vaccination centres to get vaccinated because if we have community transmission, the elderlies are more vulnerable," PM Sogavare said.
He revealed that about 54 percent of all people vaccinated are males and 46 percent are females.
"I encourage our women and girls, to come forward and get vaccinated," Sogavare said.
Sogavare said after eight months of vaccination, the health ministry has administered a total of 267, 338 doses of COVID-19 vaccines both for AstraZeneca and Sinopharm vaccines.
"This represents only 32 percent of the total doses we must give to fully vaccinate the 414,327 eligible adults in Solomon Islands which is 828,654 doses".
"73,540 people are now fully vaccinated against COVID-19, which is 17.7 percent of the total eligible population. 120,258 people, or 29 percent, have had their first doses and we encourage all to come get their 2nd doses," he said.
Meanwhile, about 2,000 vaccine doses have been wasted after reaching its expiry date due to low vaccination coverage in of the provinces.
This was revealed by the Technical Advisor at the Ministry of Health and Medical Services (MHMS) Dr Yogesh Choudri during a radio talk-back show.
He did not provide more details about which vaccine and from which provinces.
He said the doses were supposed to be transported to one of the provinces which had a faster vaccination rollout.
However, due to recent bad weather the doses could not make it.
"Due to bad weather, we have lost 2,000 doses of vaccines," he said.
Its understood the country has been rolling out Astrazeneca and Sinopharm since March.
Therefore, Dr Choudri reiterate the need to increase vaccination coverage in the country so that donors and international community that continue to supply vaccines can be convinced and supply more.
"Because if there are not many people getting vaccinated and there are wastage, this does not send a good signal to the donors and the international community.
"So we have to work constantly to increase our vaccination coverage and protect our people," he said.
He also highlighted that its very expensive to send health teams out to the rural communities and the provinces.
So when their health team visits communities, its important to get the jab, he added.
He said Pfizer vaccine will be offered at the health centres and at the schools next year.
Pfizer was officially launched on Thursday and is targeting 50,000 pregnant mothers and teenagers aged between 12 to 18.
SOURCE: SOLOMON STAR/ISLAND SUN/PACNEWS