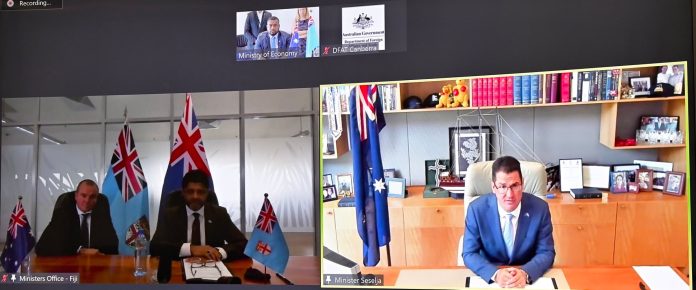 Fiji's Attorney-General and Minister for Economy, Aiyaz Sayed-Khaiyum Tuesday signed an additional $85 million (FJD$ 129.5 million) Funding Arrangement with the Australian Government under the Fiji Sustainable and Resilient Budget Support Programme.
The programme is co-financed with the Asian Development Bank (ADB) with the overall goal to support the Fijian Government in achieving an agreed set of economic and fiscal policy reforms.
This funding builds upon last year's commitment of $83.5 million (FJD$127 million) and its additional support will help the Fijian Government finance critical expenditures to support economic recovery, with a focus on fiscal management, private sector recovery, gender equality and social inclusion.
In thanking the Australian Government for all its support over the years, the A-G said "as a result of severe travel restrictions, the COVID-19 pandemic's economic ramifications have been steep across the Pacific".
"We appreciate Australia's confidence in Fiji's financial management through this direct budgetary support that will help alleviate the socioeconomic burden on Fijian society," he added.
"With more than 90 percent adults in Fiji now fully vaccinated – owed in significant part to Australian-donated vaccines – we look forward to a normalisation of trade and tourism that reconnects our region and allows our recovery to begin in earnest."
This package reflects Australia's ongoing commitment to support the Pacific's COVID-19 response and recovery efforts, including through the Pacific COVID-19 Response Package – a total commitment of more than $304.7 million (US$218 million) to the region over two years.
Australian Minister for International Development and the Pacific, Zed Seselja, said that the Fijian Government's effective COVID-19 health response and successful national vaccine rollout has allowed Fiji to emerge from the worst of the pandemic.
"By helping each other get through the pandemic, we'll all be better off. I'm thrilled to see Australian tourists getting back to Fiji, and Fijian businesses getting back on their feet," Minister Seselja added.
SOURCE: FIJI GOVT/PACNEWS