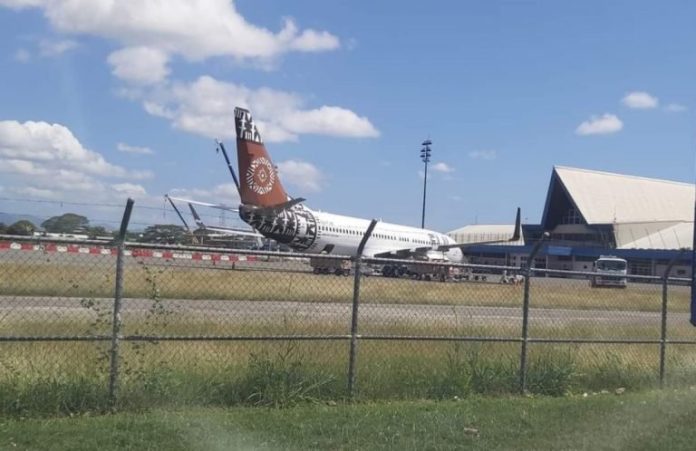 Fiji's national carrier, Fiji Airways is suspending flights to Honiara for the month of August.
A message from Fiji Airways to its passengers says flights for the month of August have been temporarily suspended following inspection, assessment and confirmation of inadequate runway conditions at Henderson International Airport.
The runway at Henderson International Airport has not been resurfaced for many years and there has been a marked degradation of the surface in some areas.
"Solomon Airlines crews are obviously more familiar with operations from this runway than other carriers and the surface will be evaluated on a daily basis to ensure that any operations carried out are done so safely", Solomon Airlines CEO, Brett Gerbers told Tavuli News Reporter, Gina Kekea.
Gerbers said Solomon Airlines is working with the Ministry of Civil Aviation (MCA) and Civil Aviation Authority of Solomon Islands (CAASI) to make appropriate temporary repairs so that operations can continue.
Meanwhile Permanent Secretary Moses Virivolomo told SBMONLINE that emergency repairs on the runway will commemce today (Thursday).
Virivolomo said MCA have an agreement by World Bank to carry out emergency repairs to the runway before proper resurfacing starts end of the year. "Work to start 4 Aug 2022 and completed by 6/7 Aug 2022".
The suspension by Fiji Airways to Honiara comes just a month after its resumption of flights between the two countries on 02 July 2022.
Tourism Solomons was pleased to see the resumption of flights by Fiji Airways and saw the move as being critical in U.S travellers once again having access to the Solomon Islands via Fiji Airways direct Los Angeles – Nadi – Honiara services.
This weekend, Honiara will be commemorating the 80 years' anniversary of the 'Battle of Guadalcanal' and is expecting an influx of visitor arrivals from as far as Japan and the U.S.
Following Fiji Airway's decision to suspend flights, Solomon Airlines says passengers are free to book with them as they have an existing schedule between Honiara and Nadi every Tuesday.
"We will evaluate each flight on a case by case basis until the runway has been satisfactorily repaired", Gerbers said.
Upgrade work on the Henderson International Airport is still progressing. The maintenance and upgrade work include a new international departure terminal and the renovation of the existing passenger terminal building for international and domestic operations as well as new taxiway and lighting for the airport's apron and an extension to the apron.
An extension will also be made to the airport's existing power house with the inclusion of a new electrical sub-station and improvements will be carried out on the terminal road for the international departure terminal. Additionally, flood protections works will be carried out as part of this project and the Japanese International Cooperation Agency (JICA) is involved in the design and supervision of all work carried out under this project.
SOURCE : TAVULI NEWS/PACNEWS