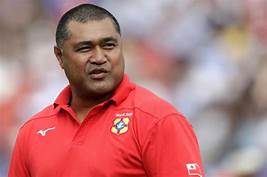 Ikale Tahi coach Toutai Kefu believes Tonga are capable of making the Rugby World Cup quarter-finals, if eligibility rules were to change.
The World Rugby Council will consider a proposal this week to change the sport's eligibility rules, making it easier for players to switch their international allegiance following a three year stand-down.
Under the current regulations, once a player has represented one country at international level they cannot turn out for another, unless they utilise an unintended sevens loophole.
The Tongan squad were unable to secure a win in their Northern Hemisphere tour which ended with a 32-20 loss against Romania in the weekend, following heavy defeats by the French Barbarians, Scotland and England.
Grant Doorey was leading the 'Ikale Tahi coaching group on tour in the absence of Kefu, who remained involved from afar, but stayed home in Brisbane to continue his recovery from a home invasion attack in August.
Cardiff attack coach Richie Rees, former Fiji head coach John McKee and former Connacht forwards coach Jimmy Duffy were also drafted to help
Toutai Kefu said a number of players had made their international debut for the kingdom, but a change in rules would transform the team significantly.
"We're hoping that they can see some sense in the reasons for doing this," he said.
"There's been a real push over the last two campaigns to introduce some fresh blood, some new blood, and with this decision being made in the next couple of days, you know we've got our fingers crossed."
Tonga are yet to play at the World Cup qualifiers after beating the Cook Islands in July.
If eligibility rules were to change, Kefu said he would expect Tonga to be vying for the quarter-finals at the World Cup in 2023.
"We want to make the World Cup which is our marquee event and we want to make it as competitive as possible."
"If you look at all the Scottish teams and Welsh teams now, their qualifying players through residency, there's a lot of Australians, New Zealanders and South Africans playing for the home unions; have a look at the Japanese team. We're just talking about Tongans playing for Tonga."
"I think all of us in Tonga, certainly myself and everyone in administration and governance, we've got our fingers crossed for this decision that's going to be made in the next couple of days. That's a really important decision for us and if it goes our way, they should call it a national holiday I reckon."
Moana Pasifika's first ever squad for the 2022 Super Rugby Pacific competition has officially been confirmed, with 17 of the 38-man squad of Tongan descent.
Kefu said the new team shows that players effectively want to represent their heritage and in turn, would want to play for Tonga.
"That's been a real plus for us and I've had many conversations with Aaron Mauger, I've been really impressed about how he's put this team together," he said.
"Hopefully I can spend some time with him and the team early in the new year and also just get my eye over those Tongan eligible players, but this is going to be another fantastic opportunity to keep players here in terms of rugby and competing in the best competition of the world."
There are still some players in New Zealand, Australian and Japanese teams he has his eyes on, he added.
"There's a few for the Reds, a couple of props there that I'm really keen on that haven't represented the Wallabies yet. There's also a centre playing for the Waratahs, we've had our eye on him for a couple of years. There's a couple of players in Japan.. there's Tongans everywhere, so if I can tap them on the shoulder and have a conversation with them then maybe that will get the ball rolling."
"But if players are good enough for the All Blacks, England, the Wallabies, we won't discourage them from pursuing that either because at the end of the day their earning capacity is far far greater than what they will be making for Tonga, but if that opportunity for them is not there anymore, we would welcome them with open arms."….
SOURCE: RNZ PACIFIC/PACNEWS