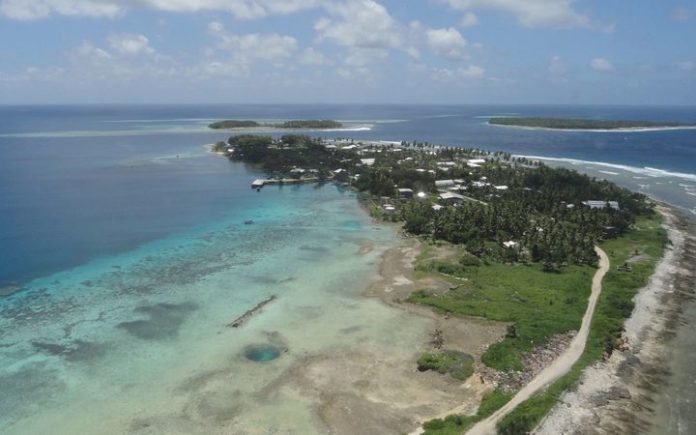 The Marshall Islands is urging collective global action over both the climate crisis and the pandemic.
A low lying island country which has been a poster child for climate change impacts, the Marshalls remains one of the most vocal advocates for global moves to curb greenhouse gas emissions.
And while the country has been largely free of Covid-19 cases, it has not escaped the pandemic's economic impacts, the Marshalls' Foreign Minister Casten Nemra said.
"In terms of the global pandemic on Covid-19, it's really clear that no country is an island. We all need to collaborate collectively to combat this terrible virus, Covid-19. In a similiar fashion, it's a same issue with climate change efforts," Nemra said.
"The global community needs to really come to one level of understanding and co-ordination about what needs to be done, and prioritise.
"I'm not sure when that will be, but I'm confident that through the recent efforts of many leaders that are coming through lately, including New Zealand of course, with what they announced, it's a very welcome change."
Nemra was referring to this week's announcement by New Zealand's government of boosted climate aid to the region.
New Zealand's promise of US$920-million over four years to countries most vulnerable to climate change is part of the commitment it signed up to in the Paris Climate Agreement in 2015. At least half of the money is to go to the Pacific.
The announcement was welcomed by Nemra who said climate finance inertia had become frustrating over the years.
"And gradually we've seen pledges and sometimes these are with little or very minimum support coming through. But lately, and including what New Zealand has announced, we're starting to see more of these into results."
He said the Marshalls hoped to work more with New Zealand to develop sustainable transportation in its archipelago.
New Zealand's government is hoping its climate finance announcement may go some way towards repairing the frayed consensus around the Paris Agreement.
While Pacific Island countries are generally united over their push for more meaningful action on climate, they have glaring disagreements with Australia's position on climate, which has also exacerbated divisions among the members of the Pacific Islands Forum.
Earlier this year, the Marshall Islands and four other Micronesian governments announced their intention to leave the pre-eminent regional body in protest at its candidate for Forum Secretary-General being overlooked earlier this year.
A review is now underway into how the position is appointed within the Forum, but leaders of the five Micronesian countries – the Marshalls, Kiribati, Palau, Nauru and the Federated States of Micronesia – appear to be holding firm in their decision to withdraw.
Meanwhile, Nemra said Micronesian leaders were engaged in ongoing dialogue about the matter.
"It's right now premature to say firmly on where things are heading," he said.
"But as far as I can say at this point in time, these dialogues are taking place and perhaps, in the coming weeks and months, a more concrete result may come out of it."
The Marshall Islands was one of the first countries to close its borders in March last year when the Covid-19 pandemic emerged, and has since maintained tight restrictions.
Nemra said reopening depends on the country's vaccine rollout, as well as offshore outbreaks, especially in the Marshalls' main points of entry.
"We're looking at it from both lenses: what's happening outside of the Marshall Islands; and our own efforts with the national vaccination.
"So I envision we will start to gradually reduce the number of quarantine days, but we will not eliminate it right away."
The Marshall Islands has only had four confirmed cases of the virus to date.
Meanwhile, Nemra said over 80 percent of the eligible population in the Marshalls had been vaccinated against Covid.
He said the recent move to lower the age threshold for vaccination from 18 to 12 years meant the numbers would increased further in coming weeks.
The Marshall Islands also recently became the first nation in the Pacific Islands to offer Covid vaccinations for fishermen on longline and purse seine vessels when it started in June in Majuro.
Nemra said this was important given the importance of fisheries to the country's economy, and the need to maintain ongoing economic activity during the disruptive times of the pandemic.
SOURCE: RNZ PACIFIC/PACNEWS