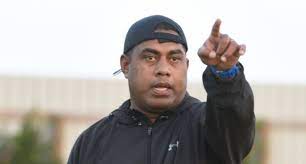 Stand in Fiji 7s coach Saiasi Fuli who takes over from departing coach Gareth Baber has assured the people of Fiji that he is ready to take up the task ahead in leading the men's team.
Currently in the midst of preparing our Fijiana 7s team to next year's Rugby World Cup Sevens in South Africa, Fuli is confident of the task he has been given.
"I can fully assure the people of Fiji that the programme is stable and firm from your leadership," Fuli said.
He said they were getting to work immediately in filling the void left by Fiji 7s players that had moved on and preparing for the next phase.
"We are advising the new management of the new crop of players that we have identified as well as the new players that are coming in from the clubs that are playing well in the local 7s series.
Former national 7s skipper and dual gold medallist Jerry Tuwai joins Fuli in a coach/player role with the assistance also from technical coaches Tikiko Namaua, Eroni Viqasi and Eroni Sotutu.
Fuli continues to recruit and train young girls to play for the Fijiana 7s team in the upcoming competitions.
"It's all part of my plan, that is to establish a solid base of new young players coming into the system, learn the trade of rugby, before we expose them to a competitive environment.
"Late last year I included some youngsters who excelled beyond expectation with the likes of Verenaisi Bari from Savusavu, Laisana Likuceva from Jasper who ended playing at the Olympics, Maria Rokotuisiga another young talented fullback in Suva and Reapi Uluinasau from Nadroga who ended up breaking three records at the Tokyo Olympics "I always believe that we must always create that balance in the squad of maintaining some experience players and blend it with young players.
"Also credit to our team of Jim Volavola, Ju Nasilasila, and trainer Tikiko for the integrated approach in developing our young players, teach them creative skills, right technique which will help them grow as a player and as a person," Fuli said.
Meanwhile, former Fiji 7s coach Gareth Baber has joined Edinburgh as a skills and assistant attack coach.
According to the Scotsman website head coach Mike Blair in an interview said he had been tracking him (Baber) for a while.
Blair said he had been looking for a new assistant since Duncan Hodge left the club.
"My conversations with Gareth were brilliant. I'd come off the phone feeling really enthused about how he'd go about his work in the skills section.
"I think he complements my coaching characteristics, in that I'm a little bit more off the cuff – I'll think of doing something and do it – whereas Gareth is very much planning it and setting targets. And I think for our guys that are going to be something that is really important."
Baber, for his part, was keen to return to the 15-a-side game, despite the fact Fiji wanted him to stay and lead the team's bid for an unprecedented hat-trick of Olympic titles at Paris 2024.
"We're really pleased to have him on board as that senior, more experienced coach – but we also realise that he has been out of 15s for a while, so it is not going to be just a really smooth transition for him into it because he's got lots of learning to do as well.
"But what he's going to be able to bring to this squad is going to be vital pushing us forward."
Blair thinks Baber can have a positive impact on Edinburgh's Fijian contingent and can also help identify others from Fiji and the wider sevens circuit who could boost the squad.
"He's worked with the Fijians and knows their mindset and knows our guys which will help get the best out of Lee-Roy Atalifo, Mesu Kunavula and Viliame Mata."
Baber, in the FRU media release said, "I have a burning ambition to challenge my coaching again in the 15's environment and know that I must immerse myself in this if I'm truly to be measured and to progress in my coaching career.
"I'm an individual who is driven by the challenge of the sport that I love, and this is what brought me to Fiji in the first place," the Welshman said.
Baber had joined the Fiji 7s team in 20016.
SOURCE: FIJI TIMES/PACNEWS