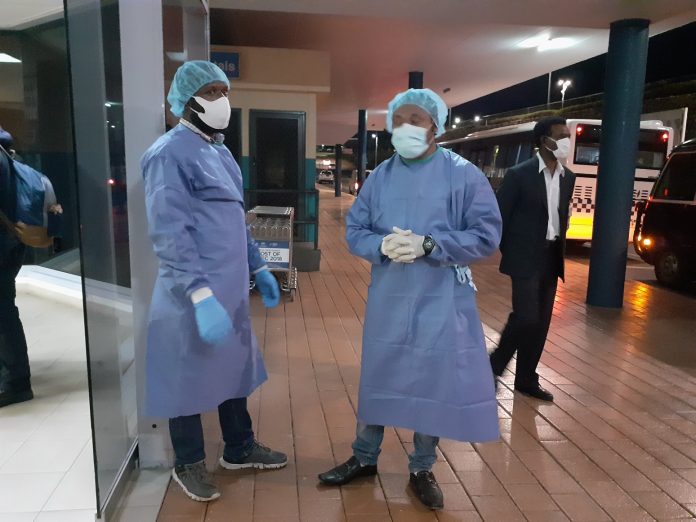 -The Covid-19 surge is stretching the country's health system, "something that we thought would never happen in our country", says Papua New Guinea Health Minister Jelta Wong.
"We are pushing our health system to the limit," Wong said.
"We've had a lot of deaths.
"Six months ago, we became complacent thinking that it will never come here.
"(So) we were our own worst enemies.
"We became complacent."
He blamed "misinformation on social media" about vaccination for the hesitancy by many to get the vaccines.
Wong said people were now starting to see the effects of the Covid-19 and what the Delta variant was doing in Goroka, Mt Hagen and Western.
"They are starting to see that this Delta strain is a killer," he said.
"It kills our people.
"Once we start treating people, it takes two weeks to get answers.
"There is no cure we can rely on.
"There is no medicine so we rely on isolation – people being separated from people so the virus doesn't move.
"We also rely very heavily on people getting vaccinated."
He said the Government response was slow but "we are getting there. (Stopping it) doesn't happen overnight".
Wong said it was very pleasing to see that the number of people getting vaccinated had quadrupled.
He urged the people to get the vaccine to stop the surge.
He said people were now witnessing what was happening in Goroka, Eastern Highlands which should change how people viewed the pandemic.
Meanwhile, Eastern Highlands Governor Peter Numu says the health situation in the province is "scary", with 42 people, including a two-month-old, killed by Covid-19 in the past four weeks.
"Healthy people with no underlying issues are collapsing," he said.
"The situation is scary.
"It reminds me of what some doctors said that people will be dying like flies."
He told The National that calls he had been getting from ward councilors and presidents painted a grim picture of the Covid-19 situation in the rural areas.
Monday's updated figures from 09 September to 10 October showed that 42 had died in the province from the Covid-19 including a two-month-old child.
New lockdown measures will be in force from tomorrow as the province of 700,000 people in eight districts scurry to protect themselves from the Covid-19.
Deputy director of curative health Tony Basse said the total admission was 215 at the Goroka hospital. "The youngest admission was a two-month-old baby and the oldest an 83 year old," Basse said.
"From the 215, 111 have been discharged and 52 are currently admitted in the five isolation wards."
There were 151 men.
Basse said one patient ran away.
The main streets of Goroka and Kainantu towns were empty as people began to observe the 5pm to 6am curfew hours.
Provincial Police Commander Supt Michael Welly said they were making sure than everyone complied with the lockdown restrictions.
"I appeal to every individual to cooperate in every way possible to eradicate the Covid-19 in the province," he said.
Eastern Highlands provincial administrator/controller John Gimisive said for the next 14 days, the curfew would be from 2pm to 8am.
Gimisive said vehicles passing through the province should have access passes to be allowed through.
He said night clubs, gaming sites and liquor outlets must be closed during the curfew.
At the Port Moresby General Hospital, two more Covid-19 deaths were recorded.
Hospital chief executive officer Dr Paki Molumi said 145 people were admitted – 114 at the hospital and 31 at the Nightingale Taurama Aquatic Centre.
He said five of them were critically ill, 30 severely ill and 70 were moderate cases.
SOURCE: THE NATIONAL/PACNEWS