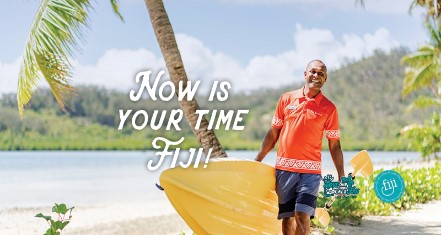 After months of keeping each other safe and staying home, Tourism Fiji know you're ready to get out and explore Fiji again
In line with the Fijian Government's announcement of an easing of domestic travel restrictions from 04 October 2021, Tourism Fiji launched their domestic campaign 'Now is your time Fiji!'.
With a plethora of unique and immersive unexplored experiences in Fiji, the campaign aims to inspire Fijians to enjoy a long-awaited escape by taking advantage of the favourable local deals and explore their very own backyard here in Fiji.
The pent-up travel demand due to the lockdown has resulted in a new-found interest in domestic travel within Fiji. Locals are seeking to explore and discover Fiji's untold stories and traveller secrets. Keeping in mind the culture, adventure and palate of local flavors Fiji has to offer, it provides an enticement along with information on exploring domestic travel within the islands.
The campaign aims to bring to life the depth and breadth of our beautiful homeland through specially curated travel experiences, sharing top of mind with engaging content from the lens of a local Fijians perspective. It was rolled out across social media, print, radio and content partnerships, with Fijians being encouraged to travel responsibly and in-turn support fellow Fijians get back into jobs that they love.
The Tourism sector is now getting back up and running with many industry stakeholders having opened their doors ready to welcome Fijian's. To support this drive towards domestic tourism, Australia's Market Development Facility (MDF) and the Fiji Hotel and Tourism Association (FHTA), together with Tourism Fiji had launched Fiji's first Domestic Tourism Study. The study has helped tourism stakeholders better understand different local tourism segments and identify in-market opportunities to more effectively target and cater to the local tourism market.
"This piece of research work by MDF has given us a clear direction and insight which we have utilised in our marketing strategies. We would like to thank all our industry partners, without whom this study could not be possible.
"Today, as the number of vaccinated Fijians continues to rise, we are pleased that our economy is opening up more and more. We also anticipate a lot of domestic travel and activity as restaurants and places of business begin to open up to fully vaccinated Fijians," said Tourism Fiji CEO Brent Hill.
Since its launch, the campaign has received a strong and positive uptake having reached over 180 thousand Fijians via the Love Our Locals Fiji Facebook channel who check on the special travel deals and promotions available to them.
Tourism Fiji is playing an important role in supporting the country's economic recovery by helping restart the tourism sector. The Campaign is an ongoing stream of work from Tourism Fiji that builds towards our 3-year plan to establish and boost domestic tourism in the country. The work is centred on developing domestic tourism and providing new tools, data and insights to the sector along with business support services.
With the current high digital consumption in Fiji, restart of domestic tourism, and preparations to sprint towards international borders reopening in December, we intend to pace up momentum with the ultimate intent to accelerate domestic travel demand and to help industry stakeholders generate bookings.
SOURCE: TOURISM FIJI/PACNEWS