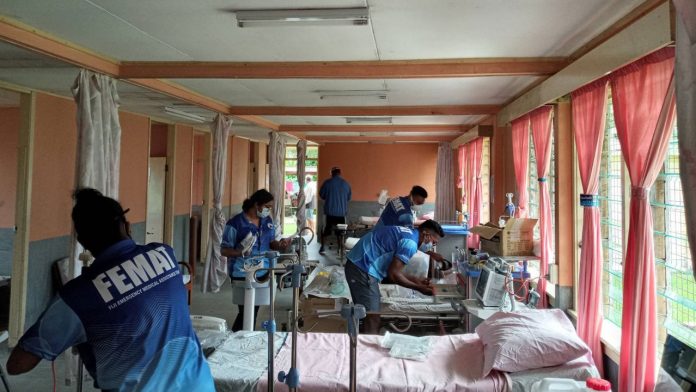 Fiji has recorded 54 new cases of COVID-19 Sunday increasing the total number of cases in the island nation to 50,685 and 588 deaths since the outbreak in April.
Permanent secretary for Health, Dr James Fong said there have been 99 new recoveries to report since the last update, which means that there are now 13,022 active cases.
"There have been 50,685 cases during the outbreak that started in April 2021. We have recorded a total of 50,755 cases in Fiji since the first case was reported in March 2020, with 36,707 recoveries.
He said no new COVID-19 deaths was reported.
"There have now been 590 deaths due to COVID-19 in Fiji, with 588 of these deaths during the outbreak that started in April this year. As of September 21st, the national seven days rolling average of COVID-19 deaths per day is 0.3. The seven days rolling average for COVID-19 deaths per day in the Central division is 0 and 0.3 in the Western division.
"We have also recorded 436 COVID-19 positive patients who died from the serious medical conditions that they had before they contracted COVID-19; these are not classified as COVID-19 deaths," said Dr Fong.
He said there are currently 93 COVID-19 patients admitted to hospitals in Fiji.
"43 patients are admitted at the Lautoka Hospital and 50 are admitted at CWM hospital, St Giles, and Makoi.
"10 patients are considered to be in severe condition, and four are in critical condition.
As of 25 September, 591,293 adults in Fiji have received their first dose of the vaccine and 425,902 have received their second doses.
"Based on our updated total population of 618,173 people aged 18 years and over (adults), the revised vaccination coverage rates are 95.7 percent for adults who have received at least one dose, and 68.9 percent are now fully vaccinated nationwide," said Dr Fong.
Meanwhile, despite the decreasing number of COVID-19 infections in the last few weeks, health professionals are not letting their guard down.
The frontline workers stationed at the Fiji Emergency Medical Assistance Team(FEMAT) have been temporarily relieved of their duty to prepare for expected future challenges.
All the COVID-positive patients are now looked after at the Colonial War Memorial Hospital.
FEMAT Head, Dr Luke Nasedra said they will remain on standby to assist in the COVID response.
"All the positive cases are now being handled at the CWM hospital. As part of our standing down plans, we have re-prepared the Vodafone Arena in case we have to handle some of the caseloads from CWM hospital and other health facilities in the Central division."
Dr Nasedra has thanked the government agencies for their support during their operation in Suva.
"As you are aware that over the past few weeks there has been a steady decline in the number of cases. From there we thought that we need to scale down our operation."
Dr Nasedra said although they are winding down their operations, they have also arranged for certain FEMAT operations to continue.
"The ambulance and retrieval services we are still maintaining. Those services are continuing."
Permanent Secretary for Health, Dr James Fong said they might set up some stand-alone equipment in the North and high-risk maritime islands.
FEMAT was established a few months ago to ease the burden off the Colonial War Memorial Hospital.
Dr Nasedra said the FEMAT equipment will be moved to the warehouse for now and will be prepared for the cyclone season and other operations.
SOURCE: PACNEWS/FBC NEWS