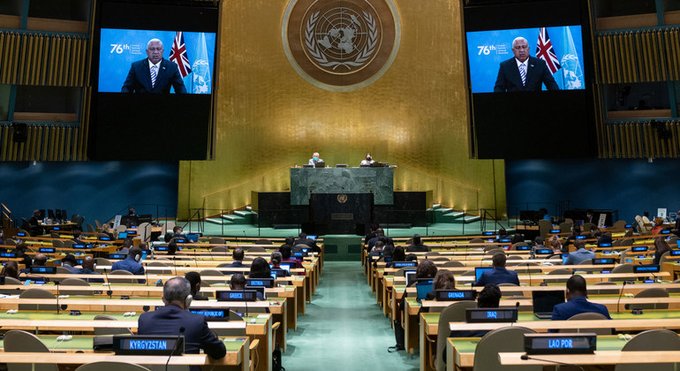 Three days after the Fijian Parliament passed a ground-breaking Climate Change Bill, Prime Minister Voreqe Bainimarama delivered a challenge to developed countries at the United Nations General Assembly to follow Fiji's lead in legislating a net-zero carbon emissions target by 2050.
Fiji is the seventh country in the world — and the first Small Island Developing State — to pass climate legislation inclusive of a net-zero emissions goal.
"While I wish to be with you in New York, I am beholden to Fiji's shores for one of the most consequential parliamentary weeks in our history. We passed a Climate Change Act that legally-binds Fiji to its commitment of net-zero carbon emissions by 2050. The Act goes further, providing a legal framework for a carbon-neutral and climate-resilient Fiji by committing us to the 100 percent sustainable management of Fiji's ocean and climate mitigation and adaptation through nature-based solutions," said the Prime Minister.
Addressing the UN General Assembly, the Prime Minister called on the global community to embrace Fiji's vision of a better, greener, bluer and safer future for humanity.
"We want islands inhabited by citizens who stand with nature and not against it. We want sustainable economic growth that is powered by clean energy and protected from the impacts of climate change. We want robust and resilient health systems, and we want good jobs and income supported by a green and blue economy. To succeed, our vision must become the vision of humanity, because our fate is the world's."
Speaking in support of the Act in Fiji's Parliament last week, the Prime Minister stressed that every tonne of carbon emissions averted counts to stave off the worst of climate change.
"Fiji did not cause the climate crisis, but we will not hide behind the excuse that we are too small to do its part. No nation is too small to make a difference; not Fiji, not any other Small Island Developing State, not Australia, New Zealand, nor, certainly, any of the major industrialised nations. We all have to commit to the target of net-zero emissions by 2050 at the absolute latest. Preferably, much sooner."
In Fiji's national statement, the Prime Minister also issued a stern warning to nations yet to make net-zero commitment ahead of the 26th Conference of the Parties (COP26) in Glasgow Scotland next month.
"Leaders who cannot summon the courage to unveil these commitments and policy packages at COP26 should face consequences that match the severity of what they are unleashing on our planet. We do not tolerate war between our members states. So, how can we tolerate war waged against the planet, on the life it sustains, and on future generations? That is the firm red line Pacific nations will draw in Glasgow. We are demanding net-zero emission targets and accepting zero excuses."
Fiji's Climate Change Act is among the world's most comprehensive pieces of climate legislation, covering issues such as long-term net-zero commitments, carbon budgets, carbon market establishment, climate-induced human mobility, nature-based solutions, the legal recognition of maritime boundaries relative to sea level rise, climate finance and intergovernmental resilience building.
SOURCE: FIJI GOVT/PACNEWS