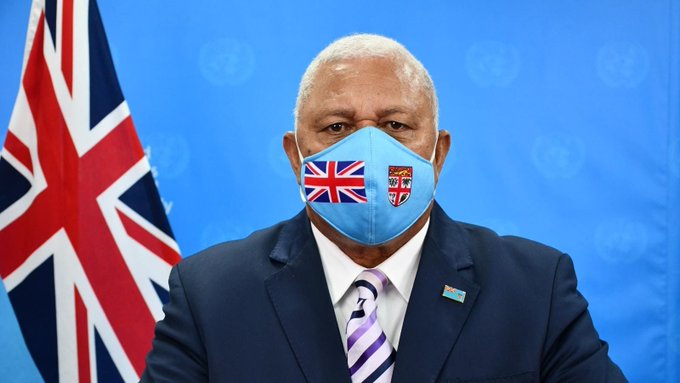 Nature's role in growing Fiji's socio-economic development cannot go unnoticed as efforts are made to mitigate against the impact of climate change and warm ocean levels.
This message was highlighted today by Prime Minister Frank Bainimarama in a virtual message to the global community at the 'Transformative Action for Nature and People High-level', an event held along the margins of the United Nations General Assembly 76 session (UNGA 76).
Speaking on the important role that nature plays in different communities, and in particular, in Fijian communities, the Prime Minister highlighted that nature's value is non-negotiable and it provides Fijians with culture and community.
"It supports jobs and industry. It builds resilience and underpins every aspect of sustainable development. And it is key to an inclusive and sustainable pandemic recovery."
"Battered by COVID-19, as well as the stronger storms and the rising seas brought by climate change, Fijians are drawing hope from a whole-of-nation effort to build a more nature-positive society."
The High-level event provided an opportunity for Government leaders and partners to present and pursue transformative actions and financing to reverse biodiversity loss by 2030. This High-Level Event calls for urgent actions which protect, conserve, enable sustainable use and restoration of biodiversity.
Prime Minister Bainimarama called for far greater global solidarity needed to protect the environment and biodiversity. He said that to build back better from the COVID-19 pandemic we must restore biodiversity and recommit to a 1.5 Celsius or less pathway.
"Humanity is not above nature, we are a part of it. The arrogance of thinking otherwise is costing us dearly. Now, we must appeal to nature to save us from a crisis of our own creation, a sixth mass extinction event produced by our appalling degradation of the climate. Without urgent and drastic action, the consequences will be irreversible."
Prime Minister Bainimarama outlined the decisive actions taken by Fiji to deliver its commitment to climate adaptation and oceans conservation.
"Fiji is committed to the 100 per cent sustainable management of the ocean, with 30 percent declared as marine protected areas. We will be a net-zero society by 2050, with drastic emission cuts secured by 2030. We have banned deep-seabed mining in Fijian waters. We are committed to planting 30 million trees and dramatically improving mangrove cover in our coastal regions. We have banned single-use plastics and styrofoam."
"We are bringing traditional leaders, women, youth and people living with disabilities into the fold of our climate and biodiversity action to build a healthy relationship with nature from the grassroots up. And we call on the world to match our ambition for nature and the climate, and for the opportunities afforded to all people –– as promised in the Leaders Pledge for Nature," PM Bainimarama said.
He called for global collaboration and accelerated action towards nature positive actions for biodiversity and people.
"Fiji's future will be nature-positive and carbon neutral. It is green, it is blue, and its benefits will extend from ridge to reef, from our farms to our watersheds, from our cities and our rural highlands and outer islands."
"Globally, our pandemic recovery is our chance to reset our relationship with the rich biodiversity of planet earth. The clock is ticking. This is our window of opportunity for bold action and leadership to protect our environment and invest in the long-term health of our one connected ocean, climate, and global ecosystem," Prime Minister Bainimarama emphasised.
SOURCE: FIJI GOVT/PACNEWS