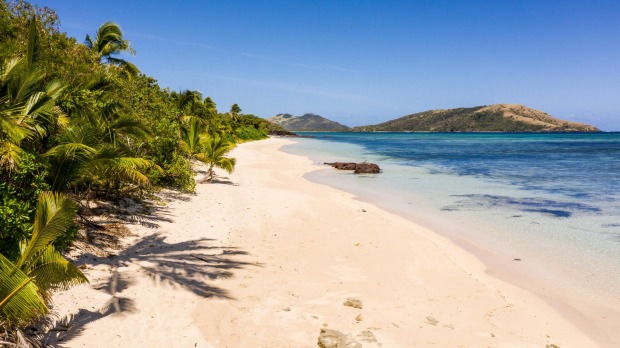 When Brent Hill, one of Australian tourism's most successful marketers, decided to swap his role with a destination that boasts one of the planet's lowest COVID-19 caseloads for one burdened with the worst number per capita in the world, eyebrows were raised.
In his job as marketing guru at the South Australian Tourism Commission, Hill hit pay dirt, literally, with a bold – if somewhat obscure – TV campaign that celebrated the rich soils of the state that play a major role in the nature and appeal of its key attractions (at least we think that's what it was meant to be about).
One of the ads was backed by Nick Cave's deeper-than-a-Coober Pedy-mine voice in the song Red Right Hand, with its title drawn from the epic John Milton poem, Paradise Lost.
Fiji, where COVID-19 has been tragically pervasive in 2021, is a tropical island country which could well be portrayed these days as a paradise lost in the miasma of a pandemic.
But that's precisely where Hill, as the new chief executive of Tourism Fiji, has moved himself and his family, declaring the job being simply too good to pass up. In official photographs he's already sporting the Fiji equivalent of the Hawaiian shirt.
"Fiji for me has always been world class, beautiful, that quintessential paradise," says Hill. "It's still there and they've still got those amazing resorts, amazing facilities, diving beaches and the hinterland.
"A lot of people don't realise just how many islands make up Fiji – there's 333 islands and with that there's such contrasting landscapes that lends itself to a range of experiences and not just the 'fly n flop' that it is traditionally known for."
With a population of about 900,000, Fiji, at last word, has recorded almost 48,000 COVID cases and 510 deaths, the overwhelming majority due to a single, devastating outbreak earlier this year.
Its traditional competitor for Australian tourists, Bali, with a population of nearly 4.4 million, has been recently recording an average of 8173 cases a day with a peak of 54,517 on 14 July. Vaccination rates across Indonesia are increasing but remain worryingly low.
Despite it all, Fijians are hoping to reopen to the world by the end of this year and will be particularly keen to welcome back Australians. In 2019, more than 367,000 Australians visited the country, according to the Fiji Bureau of Statistics. Some 40 per cent of the country's GDP is dependent on tourism and one in eight Fijians were employed in the industry before the pandemic was declared.
Hill says the targeted "really robust vaccination programme", aided by donated AstraZeneca doses from Australia, is helping to ready Fiji for a dramatic tourism comeback. While he won't speculate on any plans for travel bubbles with Australian states, or Australia as a whole, Hill says Fiji is committed to that end of year reopening date.
While it is definitely a race, it won't be an easy one to win. So far, according to the World Health Organisation (WHO) 95 per cent of the "target population" of almost 600,000 Fijians have received the first dose of vaccine, and up to 50 per cent are fully vaccinated (the target population includes frontline workers, police, health care workers, hospitality workers and the elderly). But, as WHO emphasises, it's still short of the country's total population of about 900,000 though Hill is still determinedly focused on the end of the year.
"We will open to our markets who will also open with us quarantine-free," he says. "We are still finalising all the details but it is likely that we will see some prerequisites of PCR testing [the most accurate and accepted form of COVID-19 testing] and proof of vaccinations as conditions to travel."
Fiji Airways' staff, in preparation for a reopening, are now 97 percent fully vaccinated, with the entire workforce expected to reach the 100 per cent inoculated milestone by the end of next month. All "customer-facing" Fiji Airways staff are already fully vaccinated.
Andre Viljoen, Fiji Airways' managing director and chief executive, welcomed NSW Premier Gladys Berejiklian's comments last week indicating that a 80 percent double dose vaccination milestone for Australia's most populous state would offer the potential for the resumption of some international travel.
"Our flight schedules will be released immediately following an official announcement by the government which outlines border requirements and travel framework," says Viljoen. "One of these will undoubtedly be that visitors must be fully vaccinated, a position Fiji Airways strongly supports." Viljoen says that with the processes and procedures that Fiji Airways has developed to ensure safe travel, there's "no reason we can't realise that dream [of resuming services to and from Australia] sooner rather than later."
Fiji Airways is celebrating its 70th anniversary of flying this month. And the country's battered national morale was greatly, and briefly, buoyed when the beloved Fijian national rugby team clinched the gold medal in the men's rugby sevens competition at the Tokyo Olympics. But aside from that triumphal moment, Fiji, has endured one of its gravest national crises, beyond even those brought on by natural disasters.
"It has been tough," says Brent Hill. "But Fijians do have a lot of resilience and so their 'Bula Spirit' [defined as a desire to be kind and generous to all one meets] hasn't really wavered much during the crisis. The beautiful Islands, resorts, waterfalls and rivers of Fiji are still there, and are still as beautiful as ever.
"Of course, the industry feels the pain of no visitor arrivals. But there's been some wonderful stories of how the industry has helped locals, how the locals have diversified their skills, and how the industry has used the downtime to renovate and refresh products."
Many hotels and resorts have been renovating properties and expanding their on-site fruit and vegetable gardens in order to create a more sustainable approach to food when they reopen to guests. After 20 years working as dive masters at Tokoriki Island Resort, also part of the remote Mamanuca archipelago, the founders have utilised their ocean knowledge to create an artisan brand called South Seas Salt.
Even before the major outbreak, some measures were introduced by Fiji to encourage a certain amount of tourism during the pandemic, such as the "Blue Lane" initiative. It was trialled last year and allowed yachts, boats, and pleasure craft into the country provided crew members spent 14 days on their vessel at sea, and produced negative COVID tests. There have been 100 yachts that have passed through this system, helping to at least inject a limited number of tourism dollars back into the visitor-dependant economy.
"We're more focused now, though, on quarantine-free travel for vaccinated travellers – that's the key," says Hill. "And if tourists want safe, wide-open spaces – then Fiji can deliver that, with private villas, residences with pools, across our many islands. It gives you that wonderful relaxing feeling, away from crowds," he said.
SOURCE: TRAVELLER.COM.AU/PACNEWS