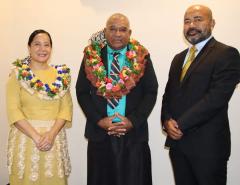 Fiji's Fisheries and Forestry Minister Kalaveti Vodo Ravu Tuesday opened a two-day workshop on 'Labour Standards on Fishing Vessels' for over 50 representatives from the Pacific.
The New Zealand Ministry of Foreign Affairs and Trade-funded programme will be jointly implemented by Forum Fisheries Agency(FFA), International Labour Organisation (ILO), International Organisation for Migration(IOM) and United Nations Office on Drugs and Crime (UNODC).
Minister Ravu told participants in Nadi that their presence is an encouragement towards building a solid foundation to enhance the welfare of our people working on fishing vessels and towards addressing the challenges in the Pacific.
He reminded participants that their contributions will be crucial as they put together the necessary building blocks for a whole-of-government and whole-of-society implementation across the Pacific region.
Minister Ravu added that the workshop is timely as Pacific Islands and Territories are making leaps and bounds in conserving and managing our living marine resources and ecosystems and advocating for the adoption and implementation of labour standards at regional fisheries platforms.
Minister Ravu was also officially introduced to the newly appointed Deputy Director General of the Pacific Islands Forum Fisheries Agency (FFA) Dr Pio Manoa.
In her introductions, FFA Director General, Dr Manu Tupou- Roosen said that Dr Pio brings vast experience to the organisation which will certainly benefit member countries. Minister Ravu congratulated him on the appointment and looks forward to future collaborations.
SOURCE: PACNEWS/FIJI GOVT