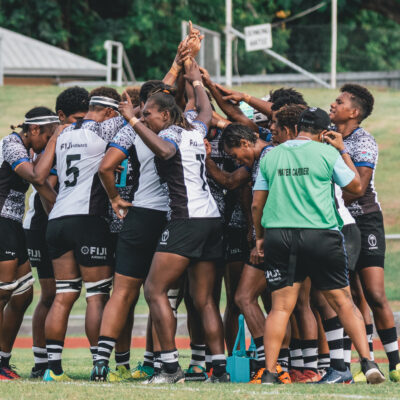 Fijiana XV's have been pumping up preparation off the field leading up to the Rugby World Cup in New Zealand next year.
World Rugby made the decision to postpone the 2021 Rugby World Cup due to the uncertainty and the challenges of a global COVID-19 landscape.
Fijiana have not played a match together since they last played a year ago, the deferred of the RWC date has provided head coach Senirusi Seruvakula and his management teams the time to work closely with his squad in getting everything right.
Preparations has been well on track for the team but when Covid-19 surge the country around April, it brought everything to a halt.
However, the past 5 months of strict Covid restrictions has saw the Fijiana management team working around the clock to accommodate the players with the much-needed training programme to keep them on track.
Fijiana XV's captain Sereima Leweniqila explained that their management team have been very active in keeping the players engaged.
"Our coaches n SNC team have been very active from the beginning. We have our training chat groups where our progamme is posted on a daily basis and players are tasked to send in daily videos and results," said Leweniqila.
"It's easy to just message our management individually if we are facing any difficulties and they are very understanding, and at times we would have our zoom meetings with our different coaches just to get everyone on the same page," said Leweniqila.
LeweniqiIa emphasised how their journey to the RWC has been a roller coaster not just due to the current situation they're "facing but with the postponement of the world cup as well."
"We can't do much with what the country is going through, for each player it's a different story on the struggle we each face to try and keep the dream alive of playing in the world cup in these difficult times," said Leweniqila.
"Some of us have lost loved ones, contracted COVID-19, loss of job/ hours cut etc, then theres trying to keep fit and improvising with whatever we can find at home to use it as training equipment," she added.
"Not only the form of training that we had been undergoing we had found some to be new to us and also challenging, then we have a few stumbling blocks of smaller issues that we hit along the way," she added.
However, these did not deter them from pushing through, and with the Fijiana 7's success at the Olympics, it has definitely provided them with the urge to train hard, give it their best and aim for the top reward.
"Just an overall inspirational, motivational and just a proud moment for all women who play rugby, their win not only impacted the rugby fraternity but just women in General, winning an Olympic medal or just participating in the event is one of the highest forms of achievement in sport for any women," said Leweniqila.
"As for the Fijiana 15s i think it's given the players a sense of feeling and hope that anything is possible, we just have to work hard and work together," added Leweniqila.
SOURCE: FRU/PACNEWS