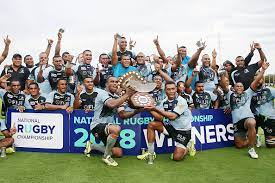 he Fiji Rugby Union (FRU) today welcomed New Zealand Rugby's announcement that it would award a conditional license to the Fijian Drua to participate in the Super rugby competition from 2022 onwards.
Although still subject to finalisation of private capital funding, FRU is in advanced stages of discussions and remains confident that it will finalise funding from one of those parties in coming weeks.
The operations of the Fijian Drua will be conducted through a separate company, which will be majority owned by private investors, although it will work closely with the FRU in many areas.
FRU Chairman, Conway Beg said "This is one of the most exciting developments in the history of Fiji Rugby. To be able to field a team in Super Rugby is a dream come true for our Union, our country, and our players. It will be a transformational moment in our history, allowing us to bring many of our best players' home, and to retain our best talent in Fiji, so that those players can play elite professional rugby in their homeland".
Beg added "Although we still have some work to do in finalising our funding, we are well progressed in not only those discussions but more broadly with other commercial partners, and we look forward to closing our discussions and moving ahead".
The CEO of Fiji Rugby, John O'Connor said "Today is another historical day of Fiji Rugby, Fiji and for Fiji wherever they live in the World. I want to acknowledge and honor the Almighty for this great achievement. Fiji Rugby has been through thick and thin, good and bad, lows and highs but through all of this, one thing that remain consistent throughout of journey, has been the love of this great God and I honor Him, first and foremost this afternoon. I also know that we have a lot of hard work ahead of us, but with God, nothing is impossible.
We are so grateful to New Zealand Rugby in particular, who have championed our inclusion in the Super Rugby competition. We extend our heartfelt thanks to NZR Chairman Brent Impey and his CEO, Mark Robinson and their Board and management colleagues for the faith they have shown in us to get to this point. We will not let them down".
O'Connor noted that FRU's inclusion in Rugby Australia's National Rugby Championship from 2017 to 2019, had allowed it to showcase the depth of playing talent in Fiji and he also thanked Rugby Australia for their support in providing that opportunity. Over 20 of the Drua players who played in the NRC have gone on to become Flying Fijians and 26 had secured professional contracts overseas, demonstrating the value of playing week in, week out at a higher level.
O'Connor said "Having our best players turning out every week in the same team will really help develop combinations and together with the added caching, medical and strength & conditioning oversight, I'm sure we will be more than competitive, not only at Super Rugby level, but also flowing through to greater success for the national team."
The Super Rugby games played in Suva between the Crusaders, Chiefs and Hurricanes from 2016 to 2019 were also hailed as pivotal milestones in demonstrating Fiji's appetite to support rugby at the elite level, with bumper crowds, and successful staging also important evidence to convince NZR that Fiji is ready for high level Super Rugby matches in our country. From February 2022 onwards, FRU will play a minimum of five matches in Fiji, expected to be shared across venues in Suva and in the West.
Conway Beg also expressed FRU's gratitude to World Rugby and thanked Chairman Sir Bill Beaumont for their leadership and funding support. He said "World Rugby's support of the Fijian Drua's participation in the NRC was pivotal in getting us to this point, and their commitment to funding for the next three years of over FJ$4million(US$2 million) is incredibly important to funding the team".
Beg also noted that the Fiji Sports Commissions support for the Drua and the NRC should not be forgotten and foreshadowed that continuing support from the Fiji Government was expected.
He said "With the prospect of hosting matches against the likes of the Crusaders, Brumbies, Blues and Reds every year, we will not only attract huge crowds and attendance from local Fijians, but will also welcome hundreds of overseas fans who can combine following their team with a holiday at Fiji's wonderful destination holiday resorts and islands. Beg said that the addition of the Drua will create over 65 new jobs, injecting in excess of FJD$6million in salaries alone to the economy. With other spending, and taxes, the economic impact is expected to exceed $15 million(US$7.5 million) annually.
O'Connor added that FRU's General Manager Commercial, Brian Thorburn had worked tirelessly on the bid, and thanked him for his efforts.
Thorburn said " The real work is just beginning, and once we finalise our equity partners, we then have a lot to do in the next nine months to make this happen". Starting with appointment of coaches, contracting of players, locking in Venues and broadcasters, as well as securing commercial partners, Thorburn highlighted that there would be many opportunities for Fijian companies to get behind the team. "We'll be looking for a number of Drua Sponsors from Team Naming rights to sleeve sponsors, and suppliers, plus we'll be building a Hospitality programme to allow businesses of any size to get involved. In time, we hope to build membership packages also. And we'll be making sure that there are plenty of affordable tickets for the everyday Fijian rugby fan to get behind the Drua and show their support at the turnstiles".
Fiji Rugby will progressively make further announcements in coming weeks and months.
SOURCE: FRU/PACNEWS