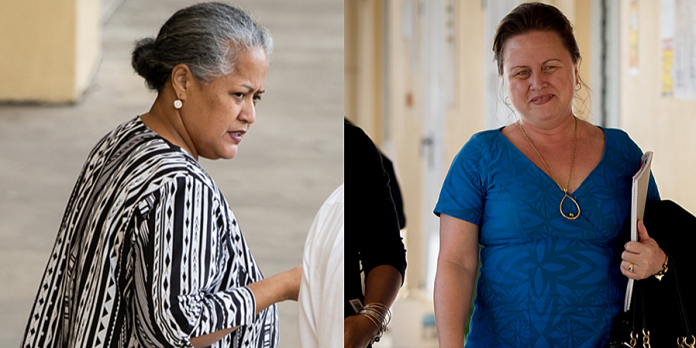 Samoan Prime Minister Fiame Naomi Mata'afa has called on the Head of States to have the suspended Attorney-General dismissed entirely from her role, effective immediately as of Thursday 02 of September 2021.
In a statement released to the media on Thursday evening, Mata'afa outlined the reasons behind her decision to dismiss Savalenoa Mareva Betham-Annandale who was only appointed to the role by the former administration only last year.
Mata'afa had also declared that Sefo Ainu'u, currently the Acting Attorney General, to continue acting in that role until the following day.
In declaring their decision, Mata'afa also announced that she has advised the Head of State to appoint Su'a Hellene Wallwork.
Su'a is currently President of the Samoa Law Society. She will be appointed as the Attorney General on a "short term appointment of three months initially, but possibly up to six months."
"On 20 August 2021 I wrote to Attorney General Savalenoa Mareva Betham Annandale, inviting her to comment on my preliminary view that I did not have trust or confidence in her ability to discharge the functions of the Office of Attorney General," the statement from PM said.
"I also advised that His Highness the Head of State had suspended the Attorney-General from office and appointed a member of the Office of Attorney-General to act in her place, pending a decision on her continued tenure of that role.
"I asked the Attorney-General for her response to the reasons for my view, which included the following: the court proceedings and other events that followed the April General Election, in which a series of actions of His Highness the Head of State were found – without any criticism of His Highness – to have been ill-advised and contrary to the Constitution;
"The Attorney-General's own behavior before the Supreme Court, for example in walking out of a hearing in May and then issuing a press release, critical of the Court and seeking to justify that behaviour;
"Other disrespect to the courts and the failure, for example, either to correct criticisms made by the former Prime Minister or to resign in protest; and the Attorney-General's lack of response to continuing attacks on the judiciary.
"Each of these fell short of my, and the government's, high expectations for the office of Attorney-General. I recognise that some but not all of these matters may have been the result of directions from the former Prime Minister.
"But my expectation is that an Attorney-General should stand for the rule of law, including by resignation if need be.
"I invited her to respond to my specific reasons within ten days, that is by Monday 30 August. I also made directions for the Attorney-General to have access to external legal advice at public expense and to necessary records to assist in preparing that response."
Mata'afa said she has already received and considered the suspended AG.'s response and has refused to accept her "submissions."
"That response took the position that neither the Head of State nor I have the legal authority to suspend or dismiss an Attorney-General.
"It was also suggested that I could not make such a decision because, having been the subject of some of the court cases decided over the last few months, I was subject to bias. The response also requested more time to provide a response to the reasons that I had set out.
"I have not accepted the Attorney-General's submissions- I do not accept that an Attorney-General cannot be removed from office.
"Every person who holds public office in Samoa holds that office on trust from the people of Samoa. For the Attorney-General, as an adviser to the executive government, that means having the trust and confidence of the government.
"I also wish to emphasise that this is not a matter of party politics. To take one of the examples above, it is not in my view acceptable for any lawyer to walk out of a court hearing, let alone the Attorney-General. That is not a matter of politics but of the high standards that I and my government strive to meet.
"I have also decided not to allow more time. The reasons that I had put forward for comment were matters well-known to the Attorney-General, and could and should have been answered quickly.
"It is also not in the public interest to delay matters."
Therefore, after rejecting the submissions by the suspended AG, Mata'afa said she has decided to "advise" the Head of State to "dismiss" Savalenoa from the role of AG, effective immediately on Thursday.
"The current Acting Attorney General will continue in that role until Friday 03 September, however, I will appoint a senior qualified lawyer as Attorney General, on a short term basis, whilst a comprehensive recruitment and selection process is undertaken to fill this critical Constitutional post for three years.
"Accordingly in the public interest, I have advised His Highness the Head of State to appoint Su'a Hellene Wallwork as Attorney General of Samoa, effective on Saturday 04 September 2021, for a short term appointment of three months initially, but possibly up to six months, whilst we seek a qualified and experienced lawyer to undertake this important Constitutional post for three years.
"Su'a Hellene Wallwork is a graduate of Auckland University and has been a lawyer for 22 years, and began her career in the Office of the Attorney General in Samoa, and then worked for 12 years in New Zealand in various senior posts in private practice, for the NZ Police and as a Senior Legal Adviser for the NZ Commerce Commission, before returning to Samoa with her husband Travis Lamb, and starting their own firm: Wallwork Lamb Lawyers in 2013.
"Su'a has held various volunteer and board positions, but notably has led the legal profession and was the President of the Samoa Law Society in 2017, then Vice President for 3 years, and was recently reelected as President last month.
"Su'a Hellene was bestowed with the Su'a title in 2008 by her family in Gaga'ifolevao, Lefaga and is active in village matters.
"Su'a brings with her a range of experience, integrity and a wealth of knowledge, and has accepted my invitation to take up this role as an independent and experienced senior lawyer, who is willing to assist during this period of change and transition, and we are grateful for her willingness and generosity, to offer her time and commitment for the benefit of this country, and thank her husband, her two daughters and her family, in advance, for their support of her during this important endeavour.
"In any democratic country, the Prime Minister, Cabinet, and the whole of government are entitled to work with senior post holders in whom they have trust and confidence and to expect that all officials will perform their functions and duties in an independent, competent, and professional manner.
"We share those expectations in Samoa and will strive to ensure that this is the case, in every Ministry and agency of government, in order that we may serve, not our own interests, but that we serve the interests of all our people – the public of Samoa."
Savalenoa was suspended on 20 August, for two weeks.
Mata'afa said at the time that the Attorney General's suspension could be the first step towards further action being taken against her, which would lead to her being sacked from the role entirely.
SOURCE: SAMOA OBSERVER/PACNEWS