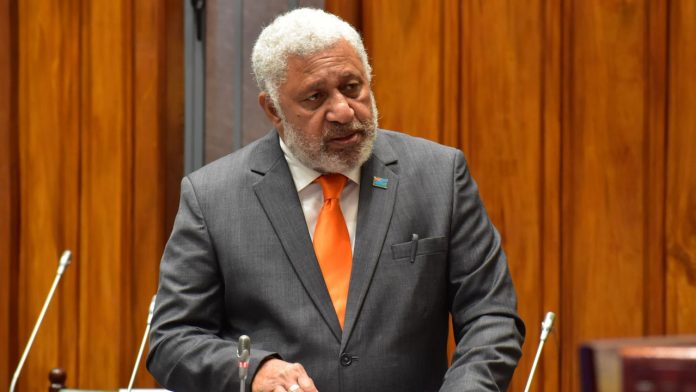 The findings of the IPCC's sixth report represent a clear condemnation of humanity's reckless abuse of the planet and a dire warning about the consequences of failing to drastically cut carbon emissions.
Every Pacific Islander should read –– or at least, review –– this report. It is compiled by a panel of 234 authors and endorsed by 195 nations. It states, with painstaking scientific certainty, that "it is unequivocal that human influence has warmed the atmosphere, ocean, and land" and it is doing so faster than we feared. By continuing to emit massive amounts of carbon into our atmosphere, we are willingly destabilising the climate of the Earth, the only home we have.
Right now, with 1.1 degrees Celsius of average warming since the pre-industrial age, the Pacific is under siege from super-storms, the rising seas, and erratic rainfall patterns. Marine heatwaves are increasing in frequency, ocean oxygen concentrations are dropping, and ocean acidification continues to rise steadily. The irreversible collapse of our oceans is not only possible, its entirely probable if we keep this trajectory. As I speak, out-of-control mega-fires are raging from the Pacific Northwest to the heart of the Middle East. Every occurrence of stronger storms, rising seas, longer droughts, or historic heat waves is a evidence of continued warming and should be an urgent call to action.
Today, I am calling on every leader to take immediate action that limits global warming to the Paris Agreement's 1.5-degree Celsius threshold –– the only threshold with any hope of staving off seismic and irreversible harm to our climate. We must keep the goal of 1.5 alive. It is not only critical for the survival of Pacific nations, it is imperative for the well-being of the global community and the economies that connect us. That has long been our mantra, and this report shows it is slipping from our reach.
When the ocean is lapping at your door, fires approaching your home, or flood waters are sweeping through your community, the 1.5-degree target is not a preference –– it is vital. We believe the 1.5 degree target can be reached because we believe in the potential of collective action. But the window for action is closing even faster than we expected. We have less than 80 days to heed IPCC's warning and deliver the required climate ambition, climate finance, and climate action at COP26.
The worst of COVID will eventually end, vaccines will see to that. But our climate is changing much faster than we expected and much faster than we are mobilising in response. Pacific Island Countries –– the lowest-emitting nations on Earth –– are committed to carbon-neutrality by 2050. We are not hiding behind the cowardly excuse that we are too small to make a meaningful difference. We are not shying away from our collective responsibility to head off this crisis. No nation should. We will not accept it. Our children and grandchildren –– those who are poised to face the worst consequences of inaction –– will not and should not – forgive our continued inaction.
I have led the global climate negotiations and joined recovery efforts at the front line of climate-fuelled super-storms. As a former COP President, as the Fijian prime minister, as a grandfather and faithful steward of the Blue Pacific, I demand that commitments to cut emissions are implemented through tangible policy changes, new investments, and other actions.
High emitting countries hold the levers for change. They have outsized control over our collective fate. They must take responsibility or live with the consequences of inaction. I call on all Forum members to work as a collective and use every possible avenue to demand global action. This is not the time for polite Pacific diplomacy. We should not quietly sit by and watch our islands lost to the seas. We should not meekly accept the loss of our livelihoods and the lives of our loved ones. This is not the time for speeches or green-washed commitments. We need action –– real action with reliable measures of accountability. This cannot be a moment of concern, it much become a transformative movement. A movement that does not tolerate science deniers or selfish interests or short-sighted profiteering that relies on the destruction of our homes, our economies and our future, but a movement that prioritizes the preservation of our ecosystems, livelihoods, and existing cultures.
We know we can expect serious consequences from the impacts locked-in by the carbon that has already been emitted, including continued sea level rise. That is why the Forum Leaders recently issued our Declaration Preserving Maritime Zones in the face of Climate Change-related Sea-level rise. Preserving maritime zones in the manner set out in the Declaration is fundamental to ensuring a just international response to climate change-related sea-level rise. It demonstrates our understanding of the reality we are preparing for and reinforces our call to world leaders to urgently commit to decisive climate action that limits global warming to 1.5 degrees Celsius.
We will continue to uphold our moral authority and call on the world to honour the Paris Agreement and to sacrifice, now, to ensure a safe, stable, and viable future for our children. Do not miss the transformative opportunities that climate-centric innovation can offer. Do not push this crisis on to our children or onto your children. This crisis is ours to own and ours to solve. By the time leaders come to Glasgow at COP26 –– it has to be with immediate and transformative action that are implementable and that make climate commitments achievable.
Come with commitments for serious cuts in emissions by 2030 –– 50% or more.
Come with commitments to become net-zero before 2050.
Do not come with excuses.
SOURCE: PIFS/PACNEWS