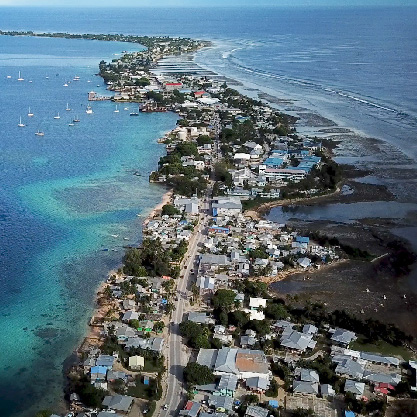 A sign of the times — the United Nations releasing a watershed climate report warning of more devastating environmental consequences if major action isn't taken now.
Micronesian leaders on the frontlines are speaking on the issue.
"Unlike other states, and countries, people from all nations have nowhere to retreat to the ocean is at our backyard, literally about frontlines as well," Hilda Heine, former president of the Marshall Islands said.
"There is no higher place that we can to retreat to period. That is the big difference from the situation of other small island developing countries. So it's clear that islands are victims. And we are suffering, that's for sure. But we also have lots of knowledge and innovations to share as bright spots for others in the fight against climate change."
"Code red for humanity." A major United Nations report says it is "indisputable" that human activities are creating a more hostile climate.
"The report is scary, and disturbing to say the least. But it also conveys a sense of clarity. If and where there were doubts, it also conveys a sense of urgency, especially for big emitters," Heine said.
"Most of the or all of the G20 countries. It also tells us if we act best, it will pay off."
Heine is part of the mother-daughter duo seeking action. She along with her daughter, climate activist Kathy Jetnil-Kijiner, spoke at an online forum hosted by the New Zealand Climate Commission about what the report means for small island nations.
The Pacific Islands Regional Climate Assessment already warning of stronger storms, coral loss, and health threats for Guam and the CNMI in separate reports released in January.
"Pacific sea level rose faster than anywhere else in the world between 1993 and 2015. So it is indisputable that the effects of climate change are more urgent, more varied and more unpredictable," Heine said.
"Clearly big emitters are not doing enough to curb emissions. That includes Pacific Rim countries, Australia, Japan, New Zealand and the United States could do more…,as well as increased financing necessary to help vulnerable countries."
Amid the pandemic, they're hoping that larger nations do their part to fund and prioritize efforts at the upcoming UN Climate Conference in the United Kingdom this October.
It comes at a time when they say education and building trust are vital.
"We're sort of trying our best at an international level to start pushing for more nations to focus on adaptation and to increase funding and support to small island nations for adaptation," Jetnil-Kijiner said.
"And this is mainly because we've come to recognize what the IPCC has already, you know, just basically recognised, which is that the science is clear, it's going to get continue to get worse. And for all nations, in particular, we have to be protecting ourselves first. So the national adaptation plan is really sort of a reflection of our government's goal of looking more internally and protecting ourselves internally."
As a poet, she's adamant about communicating the urgency through art to inform nature-based solutions including those in the National Adaptation Plan.
"It was in those spaces with other Pacific Islander us that I was able to kind of speak and use poetry to connect to the emotional issue, the emotional core of climate change, right, because climate change is so much more than just numbers and nameless faces," Jetnil-Kijiner said.
"It's also, you know, figuring out how to fight and figuring out where you can get the fire to continue to fight even long after you're exhausted," she said.
SOURCE: KUAM NEWS/PACNEWS