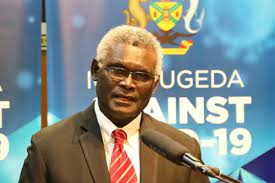 Solomon Islands Prime Minister Manasseh Sogavare has defended his governments decision to enforce the mandatory administration of the COVID-19 vaccine.
Speaking during his weekly nationwide address the Prime Minister said that the country is faced with an imminent threat, and his government is taking decisive steps to address this threat.
"We face one of the most dangerous variants of COVID-19 that has killed more than 4.29 million people globally. We only need to look and learn from our neighbouring countries such as Australia, PNG, and Fiji to see that devastation this virus can do to a country.
"COVID-19 does not care about our individual beliefs or our freedoms nor our individual rights. In-fact in many countries it is the individual rights and freedoms that has allowed COVID-19 to spread and kill many people," Sogavare said.
He said that it is not the intention of Cabinet to take away people's individual rights, but it is duty bound to act and protect the whole population of the country against this deadly virus.
Sogavare reiterates that the government respects individuals' rights, freedom and religious beliefs, but it must not jeopardise the rights of others, nor put them at unnecessary risk.
"COVID-19 does not discriminate – it affects all and if you are not vaccinated, you will become the weak link that can provide an entry point for the virus to enter and infect those close to you."
Sogavare explained that the government policy starts with those that it employs through its two tiers of government – the central and provincial governments and those employed in government institutions and State-owned enterprises.
"It is the government's policy that everyone that it employs, and members of their families must be protected from COVID-19. The best way to achieve this is to get fully vaccinated."
Meanwhile, Prime Minister Sogavare has called on the public to respect frontliners as they have sacrificed so much to keep the country safe.
"I need not remind you all that the only reason this country still enjoys freedom is a direct result of the sacrifices of our frontline workers and their families," said Sogavare.
He also gave a stern warning to those that abuse health workers, that any such abuse or threats will not be tolerated.
"Perpetrators will be arrested and charged according to the law.
"I also remind the public that it is an offence under the State of Public Emergency (SOPE) Regulations to abuse or threaten any authorized officer that is doing his or her job to protect the citizens of this country from COVID-19," Sogavare said.
He said that the vaccination teams are doing a great service to the country and must be respected.
"I ask all citizens of our beloved country that love your country, that want to see this nation prosper and its people protected from COVID-19, to stand up and work with our vaccination teams and help them do their job in protecting your families, your communities, and our country.
"They deserve our appreciation, not abuse or threats," PM Sogavare said.
As of 07 August 2021, a total of 56,928 doses of COVID-19 vaccines have been administered to the public.
13,188 people have now been fully vaccinated, which is still only 3.2 % of the total eligible population of 414,327 people.
Sogavare said vaccination coverage is expected to increase since 30,552 people have now received their first jab.
PM Sogavare continues to urge those eligible for the vaccine to get their first jab quickly as new variants continue to emerge.
SOURCE: SOLOMON TIMES ONLINE/PACNEWS