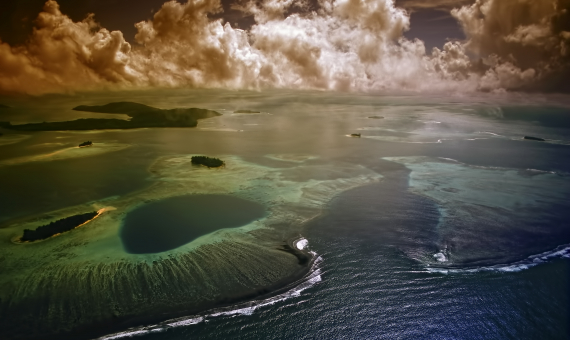 Are you an aspiring Pacific artist or graphic designer? The Pacific Climate Change Centre (PCCC) hosted by the Secretariat of the Pacific Regional Environment Programme (SPREP) is looking for artists and graphic designers to submit entries into a special logo competition for the PCCC.
The logo competition presents a unique opportunity to bring together Pacific cultures expressed through art and creativity, with the PCCC's science-based approach to supporting Pacific islands in climate change adaptation and mitigation.
"The PCCC belongs to all our Pacific islands and as such we'd really love to see members from our community help brand and build the visibility of our Centre. Having opened in September 2019we're still making our mark in the Pacific and we're keen to see our talented Pacific Islanders be a part of this," said 'Ofa Ma'asi-Kaisamy, the Manager of the Pacific Climate Change Centre.
"We're calling for all artists, or even those that have a great idea and would like to contribute, to put your ideas to paper and share with us."
The PCCC, also known as the Centre of Excellence for the Pacific region, is a hub for climate change information, capacity building, research, and innovation. The PCCC is a partnership between the Governments of Japan and Samoa, funded under grant aid through JICA for Samoa as the host country of SPREP. Since its opening in 2019, there has been a wide range of partners providing support to the center, including the Governments of New Zealand and Ireland.
The PCCC was designed specially to provide critical support to Pacific islands in order to address Pacific adaptation and mitigation priorities through knowledge sharing and training programmes. It is underpinned by strong partnerships with Pacific Governments, applied research institutions, donors, civil society, and the private sector.
Despite the COVID-19 pandemic, the PCCC saw over 220 people from across 12 Pacific island SPREP Members undergo remote training to help build their capacity in climate change.
The purpose of the competition is to build the PCCC brand and ensure the final result will reflect our Pacific region, representing the PCCC across national, regional, and international audiences. It is open to SPREP Pacific Islands Members, and the winner will receive a cash prize of USD$1,500
To contact our PCCC team or competition organisers, please email pccc@sprep.org for more information on the PCCC please visit our website. https://www.sprep.org/pacific-climate-change-centre/pccc-innovative-logo-design-competition
SOURCE: SPREP/PACNEWS