No doubt, many in the national, regional and global sporting and Olympic Movement probably do. Rapilla is a trailblazer in the sporting world.
'I've been very fortunate that I've had great support from day one. Sir John Dawanincura was Secretary-General when I came in. He took me on board, and he believed in me and challenged me,' said Rapilla.
She joined PNGOC as a volunteer before completing her education at the University of Papua New Guinea (UPNG) and working her way through administration, operations, and in programmes where she implemented the organisation's Olympic Solidarity activities for athlete and sporting federations development.
Rapilla assumed the role of Secretary-General in 2011.
'I acknowledge the role that he's played and also the members of our board, our national [sports] federations.
She also attributes her success to her husband who has been her most ardent supporter,
and like Sir John Dawanincura, an ally critical to her rise and success.
'You know, I wouldn't have done it without the support of all these people.'
Rapilla has been at the helm of the PNGOC and in her growth from sport administrator to sport leader, now at the TOKYO 2020 Olympic Games, her fifth.
Teamwork is key to success
She attributed the success of the PNGOC to teamwork.
'The success of the organisation is not just credited to one individual, it's everyone that has worked together to build the organisation.
'Teamwork is extremely important to achieve our organisational goals, making sure we have the buy-in of everyone, all our stakeholders first and foremost our staff, our board, our key stakeholders' member federations – everyone buying into our vision and we all work towards achieving that.
'And obviously, we're working towards still delivering numbers, outcomes and goals and objectives.'
Excellence in IOC sports management master's programme
Unbeknownst to many, Rapilla is a graduate of the IOC professional development academic programme, the Masters in Sports Organisation Management (MEMOS XI). In her 2008 cohort which constituted a global class, she finished in the top position and won the inaugural Alberto Madello Award for Best Research Paper.
In this regard, excellence is not a concept foreign to her.
'I've always been outcomes driven, making sure that whatever has been entrusted in order to deliver is driven to completion. Making sure that we commit to deliver. For me, this is very important.
'As leaders, we walk the talk. So for me, it's really having the setting of goals and your vision and working towards that.
'But recognising it's all about teamwork.'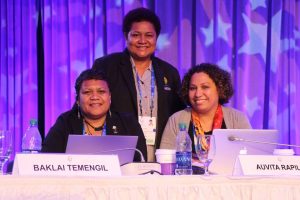 Confidence and hard work important to success
Rapilla also underscored the importance of self-confidence in achievement.
She said, 'Believing in yourself as a female is important. Sport is all about setting and achieving your goals and believing in yourself.
'I mean, I'm not an athlete,' she said, 'I played competitive sport at the national level. But I never represented my country as an athlete.
'But as an administrator with the passion to see how sports develop them, that is what has driven me in my job as an administrator as well, trying to help our sports grow and help our athletes achieve their goals and their own selves. And I'm glad that I've been able to contribute to that as well.'
Solidarity through participation is a sign of hope
On the importance of Team PNG participating at the XXXII Olympiad in Tokyo Rapilla said, 'it's very important in the sense that ensuring that we are fulfilling the fulfilling the Olympic ideas, and contributing to the vision, the Olympic vision of building a better world through sport and being able to do that through the region, as well as in our country, as representatives of the International Olympic Committee in our country.
Commenting on her role as an IOC Member, Rapilla said it is 'very important that we stay active, and we contribute actively to the Olympic movement.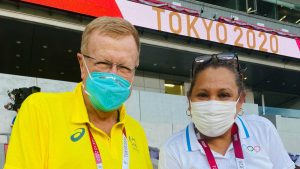 'And I'm pleased to say that I'm able to do that in my role as Secretary General.
'The NOC is now 60 years old. We're here at the Olympic Games, it's in games, that's a very different one, given the challenges of COVID.'
Message to athletes during the COVID-19 pandemic
Rapilla had a special message to athletes and said, 'I think athletes have shown great resilience, despite the pandemic and its challenges.
'It's been fantastic that we've been able to come together globally, at these Games, and that's what the Games are about – uniting the world.
'And bringing everyone together despite the challenges of the pandemic. It's good to see that our athletes can continue to excel and shine, even under the circumstances, and give their best.
Rapilla said she was very pleased that Team PNG was able to come out and join the rest of the world and to do so in a very safe environment as well.
In a very practical approach, she added, 'We can't let the pandemic prevent us and stop us. You know, life goes on.
'We have to adjust, making sure that we're compliant and observing the protocols, the quality measures, but it's been great that everyone's been able to come out here and put on
their best.
Tribute to Fiji rugby as a win for the Pacific
Rapilla extended her congratulations to both the men's and women's sevens rugby teams for the respective gold and bronze medal wins in Tokyo.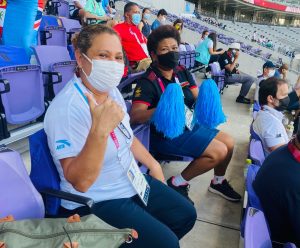 'It's been great that we could celebrate with Fiji with medals. It's not just we don't see it as just for Fiji. It's for us as well, the Pacific.
And it's fantastic. We're able to do that.'
She also stated the importance of looking to the future and said, 'We have exciting times ahead of us with Paris 2024, LA 2028 and of course Brisbane 2032 presents a very exciting future for our sportsmen and women.
Message to young athletes
In addressing young athletes, Rapilla said, 'So for those who have come for the first time to the Olympics, it's only the start.
We want to see them set the goals for the longer term. And obviously, from the IOC, ANOC and ONOC and right down to NOCs we wish to support them to realise their dreams.
'We're all in it together, said Rapilla.
SOURCE: ONOC MEDIA