Since the ancient Olympics in Greece, medicine and healthcare have played a key role in the success of athletes in every Olympiad
The same holds true for the modern Olympics since 1896. In fact, in concept, the International Olympic Committee's (IOC) Medical and Scientific Commission is the oldest of its commissions for precisely this reason.
Guam's Dr Luis Cruz who is leading the Medical Shared Services in ONOC's larger Shared Services Programme at TOKYO 2020 is part of this ancient tradition.
'This Olympics has taught me the importance of remaining flexible, having patience and being resilient,' said Dr Cruz.
'We are all in this together and need to do our part to ensure our and each other's safety.'
The current XXXII Olympiad in Tokyo will hold a memorable position in human memory because it is being held during the global COVID-19 pandemic.
In many ways, it can become a blueprint for how human passage, trade, interaction, transportation, contact activities and networking can be conducted safely among and between people of various countries and regions with huge variances in pandemic, health, and vaccination statuses.
Dr Cruz said, 'I am impressed by the lengths the Organising Committee and IOC have gone through to ensure the Games are safe and pose minimal risk to the host country.
'As we look toward other competitions in Oceania, we can learn from best practices here at Tokyo 2020 to ensure our Games are safe as well.'
This is Dr Cruz's second Olympics, the first having been Rio de Janeiro in 2016 and the benefit of comparison is important for Oceania in this Olympic Quadrennial given upcoming regional Pacific, Asia-Pacific and Commonwealth sporting events.
Preparation for Tokyo
'I prepared for the Games by ensuring I completed the required certifications such as needle policy and anti-doping; attending pre-Games medical meetings which was held in-person in 2019 and virtual meetings in 2021; reading and understanding the Tokyo Playbook and CLO roles and responsibility; and disseminating the information to officials and athletes.'
Guam COVID-19 experience critical to Tokyo
Dr Cruz also shared that dealing with the pandemic reaching the shores of Guam was useful in hindsight.
'I have been involved with Guam's COVID-19 fight since March 2020 – planning (testing, quarantine, isolation, medical treatment) and vaccination efforts – so the CLO role was a natural fit.'
'Despite knowing the restrictions and requirements for Tokyo, I didn't know how different these Games would be until I got here – daily saliva testing, daily symptom reports, and restrictions of movement; aside from everyone wearing masks and sanitizing.
'However, I feel Tokyo 2020's plan to keep everyone safe is a sound one and based on
science and reason.
'Still the spirit of Olympism is felt with the air of competition, focus, and excitement.'
Standard advice to athletes
When asked about advice given to athletes before, during and after Games, Dr Cruz said, 'I always stress proper nutrition and adequate recovery and rest to build muscle, maintain fitness, and to prevent injuries.
I also recommend they take much needed breaks and do other things they enjoy to maintain balance and proper perspective, focusing on their mental health.'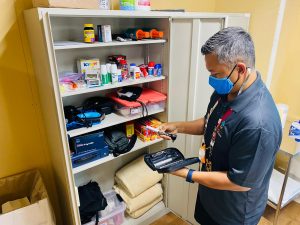 Importance of mental health and resilience of Oceania athletes
Dr Cruz said, 'Mental health is very important to athletes. They need to be in the right mindset to perform at their best, especially on the world stage here at the Olympics.
'The pandemic, postponement of the Olympics, and lack of training and competition adversely affected many athletes.
'However, our athletes in Oceania are used to challenges and have figured out ways to continue training and maintaining their focus – building a pool in their backyard and swimming in the ocean, virtual training sessions, undergoing daily COVID tests to train in team sports. These are just a few examples.'
Medical Shared Services team in Tokyo
The team under Dr Cruz include Dr Teariki Puni (Cook Islands member of the ONOC Medical Commission), Dr Ariana Adolphson (ORADO Board Member for Guam), and two physiotherapists, Mikaela Heilman (Samoa) who works in Australia and assisted Team Samoa at the 2019 Pacific Games and Rachel Douglas (American Samoa) who works in Phoenix, Arizona.
Dr Cruz said, 'We have a dedicated medical room with two private rooms for consultations, three beds for physio work, two lockers for storage of medication.
'I am the point of contact for Chefs de Mission to make arrangements for their athletes for treatment.
'The team has been busy with about five to ten athletes per day at the start but in the middle of the Games, it has slowed down with athletes leaving the village'.
In a bid to ensure equity of specialist medical and health services, the ONOC Shared Services Programme at Olympic Games and other games, works on pooling of medical specialists from different countries with a roster to provide quality assistance to athletes and officials from Oceania.
The ONOC Medical Commission which oversees this service has four main goals: to support the establishment of NOC Medical Commissions in Oceania; to support Pacific Games Organising Committees Medical Teams ensuring quality services for athletes and athlete support personnel; to facilitate information sharing with relevant stakeholders; and to support capacity building at the NOC level.
Recognition for services
The team has already received praise from ONOC Secretary-General Ricardo Blas who shared that athletes from other teams have sought medical advice from the Medical Shared Services Team attesting to the quality of the team and its services.
His only advice has been that as per Olympic guidelines, athletes ensure they get clearance from their respective Chefs de Mission before seeking medical advice.
Japanese support toward ONOC Medical Shared Services
ONOC also acknowledges the friendship and support of Shuzo Matsumoto, President of the Oceania Sports Support Organisation (OSSO) for generous support toward the furnishing and equipping of the Medical Shared Services space in Tokyo.
OSSO has also supported the ONOC Medical Commission and its games programme at the 2019 Pacific Games in Samoa and will extend the same support at the Saipan 2022 Mini Pacific Games in the Northern Marianas next year.
SOURCE: ONOC MEDIA