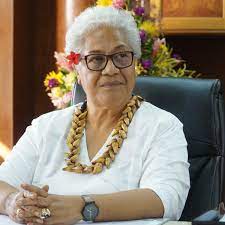 Samoa Prime Minister Fiame Naomi Mata'afa is urging all public servants not to let their support for a political party cloud their professional duties and obligations to their calling.
"In any Government, the Cabinet is the decision maker and the public servants are the arms and legs of Government to implement those decisions," she said.
The Members of Parliament, according to Mata'afa, are also public servants with different set of duties, but have the same goal of serving the people and country.
"In my opinion as a long serving politician, I strongly believe, that is how it should be, but the problem is that many public servants today have never known any other political party than HRPP they served under for many years," she said.
"It is difficult for them to differentiate the word government from political party," said Mata'afa.
"Everyone has their own political convictions but when it comes to public servants performing their duties and obligations, professionalism is of utmost importance," she said.
Several public servants are concerned and of the mindset that the new Government will terminate their services, however, Fiame has a different message for them.
"My message to the public servants is, it does not matter which party you support, but I urge you all to prioritise professionalism and service to the public, not your political party," said Mata'afa.
Misinformation that had been going around said the new Government will terminate the services of six Chief Executive Officers and had already started with the Chairman of the Public Service Commission, Aiono Mose Sua who resigned last Monday.
However, Mata'afa said Aiono, personally delivered his resignation letter to her, informing her that his contract ended in March, but was asked by the former Government to stay on until the elections were over.
She said Aiono wanted one term as Chairman after he retired and now with elections over and a new government in place, Aiono handed in his resignation.
There were also appointments made by the Caretaker Government and Mata'afa was asked if these appointments were lawfully done or would her Government void the appointments.
"There are conventions applied by other countries to address such issues, but with Samoa's case, it was the long period that allowed the caretaker Government to sit and make decisions," she said.
"In my view, we will address it but if the person's expertise and skills suit the position, then they should continue in the role," said Mata'afa.
She also confirmed that the Attorney General has not resigned despite reports that she was resigning.
"Our people who spoke to her and asked her to come to a meeting with us but said she wasn't coming as she was preparing to resign," said Mata'afa. "But she hasn't."
When the HRPP's second administration took over in 1988, they amended the Public Service Act to enable the appointment of CEOs and later their deputies on term contracts so they can be in line in pushing government projects.
Before that, directors or departmental heads terms were employed until retirement age and many had seen politicians come and go.
In the lead up to the general elections and almost four months of political uncertainty, many public servants took to social media to air their negative and sometimes defamatory views against the FAST Party and its leaders. Many hid behind fake pages.
One such case led to the use of the Ministry of Women to organise and launch a peaceful march by women in protest against a FAST Leader's comments.
On the day of the march however, the woman who interviewed the former Prime Minister and incited women to air their views in protest, made a public apology saying she did not listen to the original comments by the FAST leader and that she was briefed by the PMs media advisers to ask the question that caused the uproar.
SOURCE: TALAMUA ONLINE/PACNEWS