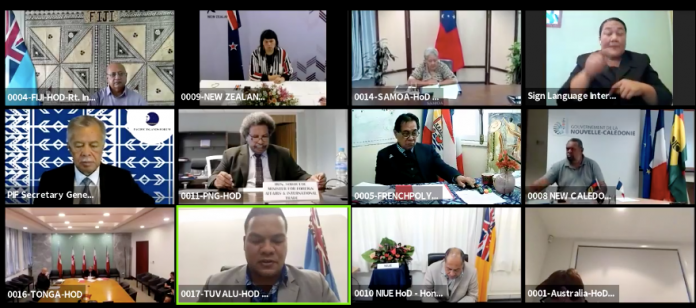 Pacific Foreign Affairs Ministers have concluded their virtual meeting this week reiterating the call that climate change remains the greatest threat facing the region right now.
And while urging for global climate action to speed up not delayed as the world prepares for the United Nations COP26 meeting on Climate Change in Scotland later this year, the Forum ministers also noted with grave concern the impact of the Delta variant of COVID-19 in the region.
The three-day meeting was the final one to be held under the chairmanship of Tuvalu, which had to hold the job longer than the one year tenureship, due to the cancellation of last year's Pacific Islands Forum meeting because of travel restrictions caused by the pandemic.
Foreign Minister Simon Kofe of Tuvalu handed over the reign to Fiji this week as host of this year's Forum Leaders' summit. To be held virtually, Fijian Prime Minister Frank Bainimarama will chair the Leaders' meeting on Friday next week, 06 August.
Another leaders' summit is planned for January 2022 to specifically discuss the COVID-19 pandemic.
The Forum Foreign Ministers Meeting's 9-page outcome statement released to the news media today showed that climate change and the COVID-19 pandemic as leading the concerns of Pacific leaders.
Both Minister Kofe and former Prime Minister of the Cook Islands but new Forum Secretary General Henry Puna declined to specify where Australia stands in the call by foreign ministers for emitters to accelerate efforts to cut green-house gas emissions to keep to the 1.5 degree Celsius goal of the Paris Climate Change Agreement.
Puna is currently undergoing the mandatory isolation requirements at the residence of the Secretary General in Suva, where he has arrived from New Zealand to take up his job.
The Foreign Ministers also took the decision to nominate Rhea Moss Christian of Marshall Islands to be the Forum's nominee to the International Atomic Energy Authority Taskforce to handle the matter involving Japan's plans to release treated nuclear waste water to the Pacific Ocean.
The Ministers also agreed that a draft declaration on the work done on the matter of preserving maritime zones in the face of climate change related sea-level rise, together with its Aide-Memoire be submitted to Pacific Islands Forum leaders meeting next week.
SOURCE: PACNEWS