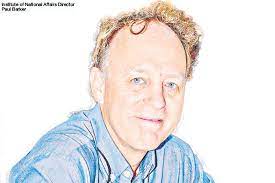 It is difficult to prevent and control money laundering activities in the country as a range of techniques up to sophisticated ones are used, Papua New Guinea economist Paul Barker says.
He said there were extensive international and domestic rules and oversight mechanisms to help prevent money laundering, but the task of prevention and control was very challenging.
Money laundering involves the transfer of money gained from illegal sources such as drug or arms trafficking, sanctions busting, human trafficking, illegal logging or misappropriation of public funds or commissions on contracts, into what appear as legitimate funds or assets, which in turn may sometimes be used to finance further illegal activities, including funding wars and terrorist activities.
Major transfers can also relate to tax or Customs avoidances or by-passing foreign exchange control or other requirements.
"The burden of prevention and detection is placed with multiple official organisations such as the Financial Analysis and Supervision Unit (FASU) in PNG, but also Government organisations from the Finance Department to the fraud squad, Internal Revenue Commission, PNG Customs Services and others," Barker said.
"Much of the burden has also been placed on commercial banks and accounting firms and auditors to verify that the money or assets held or being moved around is legitimate and belong to the persons or organisation making the transfer as a result of legal activities, such as salary or wages, investment or legitimate sale proceeds, wills or family gifts, etc.
"The process of providing proof can be demanding and time consuming, which can frustrate legitimate banking clients, but the process is necessary.
"Especially with larger sums in PNG, knowing that there is so much corrupt or hot money which rogue businessmen or officials are seeking to shift back to their home countries or into real estate overseas, which may have been sourced from illegal logging, drugs, wildlife trafficking, community royalties, district services improvement programme (DSIP), or other public funds.
"FASU's job and independence is important.
"It needs to have solid credibility and track record, as do all the banks and financial institutions operating in PNG.
"It's not possible to stamp out all illegal transfers, whether they're conducted through banks or other financial institutions, or by shifting gold or other goods across borders, or conducted through other barter or other non-financial exchange.
"However, by everyone being aware of the law, the likely means for laundering and cooperating between enforcement agencies, financial institutions, providing tip-offs of potential offences or likely transactions, it is easier to prepare, detect and control the illegal activities.
"Clearly, all players have to be committed and diligent in conducting these oversight activities, even when being law enforcers isn't the primary function of commercial financial institutions," he said.
SOURCE: THE NATIONAL/PACNEWS