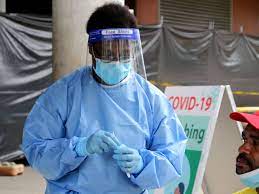 It has been confirmed Thursday that a single positive COVID-19 case with the Delta mutation has been detected in Papua New Guinea.
Deputy Controller of the PNG COVID-19 National Pandemic Response Dr Daoni Esorom confirmed that the case, PNG's first and only case, is a 65-year-old male, who is a Philippine national.
Dr Daoni said the case is currently in isolation at the Pacific International Hospital, and is in a stable condition.
This positive Delta case is the captain of the cargo ship, the Grand Tajima. The Grand Tajima departed from the Banjarmasin Port, Kalimanta Province, in Indonesia, on 26 June. The captain became unwell while at sea, and the ship arrived in Port Moresby on 07 July, 2021.
Dr Daoni said because the ship had previously docked in countries that have known cases of COVID-19 Delta strain – additional quarantine precautions were taken with this case. The ship's captain was escorted under strict quarantine controls to the Pacific International Hospital where he tested positive.
"From the start, this case was treated as being a possible COVID-19 Delta mutation infection, and so the strictest safety measures were observed. When the ship's captain returned a COVID-19 positive test result, genome Sequencing was undertaken in Melbourne.
"At nine o'clock this morning(Thursday), it was confirmed that the ship's captain tested positive with the COVID-19 Delta strain. He remains in a moderate condition in isolation at the PIH.
"As an additional precaution, six people who accompanied the captain to shore on the pilot boat, also went into immediate quarantine. Five of these people now in quarantine are Papua New Guineans, and one is from the Philippines," Dr Daoni said.
The Deputy Controller said all six have so far tested negative to COVID-19, and they will continue to be retested. The ship remains at anchor, off-shore outside Port Moresby and is in quarantine.
Dr Daoni said the Grand Tajima cargo ship arrived in PNG waters with a crew of 16 people. Since the arrival of the ship, six additional crew members have tested positive with COVID-19.
Dr Daoni said, "It must be stressed that these crew members have not tested positive for the Delta strain, and we are awaiting test results. Two of these crew have become unwell, and are now in the isolation ward at the Port Moresby General Hospital.
"The four other crew who tested positive, but are not showing symptoms, remain in quarantine on board the ship. The remaining 8 crew members are also in quarantine on the ship.
"All relevant Papua New Guinea Government authorities are in close communication with the ship at anchor. This includes the Department of Health, and the National Maritime Authority. The Philippines Embassy has been provided formal advice in relation to their citizens contracting COVID-19, and their current locations."
The COVID-19 Delta strain, or Delta mutation as it is also called, is extremely serious. It is many more times contagious than previous COVID-19 strains – including the strains currently known to be in Papua New Guinea.
The COVID-19 Delta strain is responsible for hundreds of thousands of deaths in India in the past few months. This is now causing destruction and loss of life in Fiji, and it is the Delta strain that has placed Sydney in lockdown.
Dr Daoni said in Papua New Guinea, the National Control Centre has been tracking the spread of the COVID-19 Delta mutation.
"In response to the escalated risk, our Government has introduced much stricter border control measures. These stricter controls at our borders have been introduced for a very good reason, and this has proven to be the right course of action.
"There are people coming from overseas who have complained that we now have a 21- day quarantine period. We made the change to 21 days so that we have a better chance of detecting a COVID-19 Delta mutation.
"It is important to note that our strict border control measures have ensured this case was detected before the Delta strain could spread into our community. We will continue to maintain these strict control measures, as such, there will be no change to border control measures at this point.
"Ongoing cargo shipping is essential for our economy and goods for our people and businesses. This must be properly balanced with but with public health and safety as the priority.
"There has been collaboration between the Department of Transport and the Shipping and Port Stevedoring industries. We have in place a 'Contactless Port Call' procedure that provide a stringent quality control around COVID-19 Safety protocols.
"Border control measures will continue to be reviewed as the COVID-19 situation in our region and around the world continues to evolve. Keeping the COVID-19 Delta strain out of our country is an almost impossible task, but our government will not relax. We will continue to do all we can to keep this dangerous strain out of our country, and in a worst-case scenario delay its entry and spread for as long as we can.
"Sadly more than 100 other countries have lost this fight and the Delta strain spreading through their communities. This includes countries with very strict border controls such as Australia where a crisis is unfolding."
Dr Daoni said the COVID-19 Delta strain is extremely dangerous because of the way it spreads so quickly through the community. He said hospitals become quickly overloaded and that is why there are mass deaths occurring in places like India.
He said the only way to not become seriously ill or die from COVID-19, particularly the Delta strain, is to be vaccinated.
"I call on all Papua New Guineans not to be complacent. A recent survey found that 62 per cent of our people do not think they will catch COVID-19, and that is why they have not come forward to be vaccinated.
"As we all watch the number of deaths continue to rise in Fiji, in India and right around the world, we should take this as a wakeup call for us all to vaccinate. The only way for our people to survive COVID-19 is through vaccination," he said.
SOURCE: PNG GOVT/PACNEWS