The Samoa Alliance of Media Practitioners for Development (SAMPOD) has condemned political attacks against Samoan women journalists and called on the United Nations to lend its support.
The SAMPOD statement was released after more than 1,000 men and women assembled for a peaceful march calling for an end to violence on women.
Ironically, a young female reporter was verbally attacked by two people partaking in the march against abusing women of all kinds.
In response to the SAMPOD statement, the President of the Journalists Association of Western Samoa (JAWS) Lagi Keresoma said an attack on any journalist – man or woman – is an attack on democracy.
The attack was "cowardly" and "uncalled for," and will not be tolerated by JAWS, Keresoma said.
"Attacks on journalists, men or women, is an attack on democracy. The incident yesterday involved a new [reporter], a young woman journalist who was doing her job and the attack was uncalled for," she said.
"What is sad is that the people who claimed to be advocates to end violence against women and girls are the same people behind the attack on this young woman journalist. JAWS will not tolerate such cowardly actions."
SAMPOD affirmed its stance, saying journalists of Samoa are attacked daily as a result of their work.
"We strongly condemn attacks against Samoan women journalists both online and offline motivated by political parties and members of the public online and offline," the alliance said in a statement.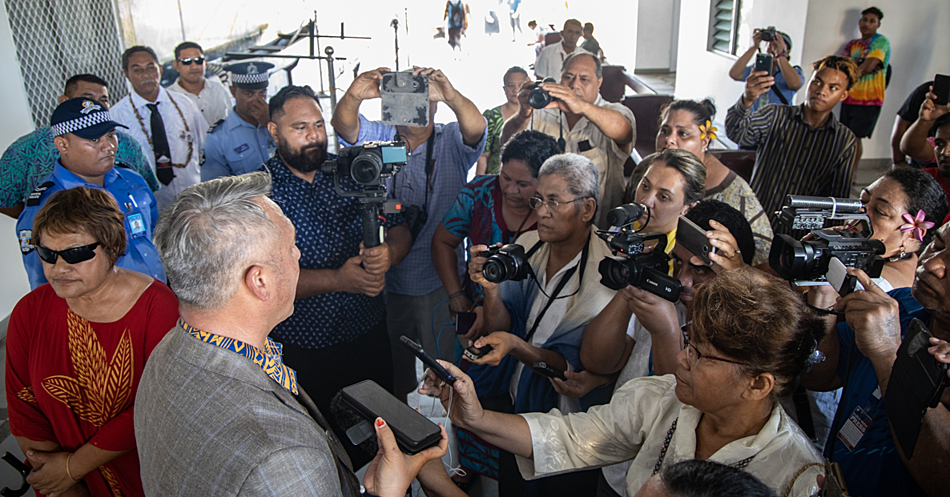 "The verbal attacks are designed to belittle, humiliate, and shame; induce fear, silence, and retreat; discredit the women journalists of Samoa from performing their duties as reporters. The continued harassment undermines the credibility of the work of women journalists and silences them along with sources, colleagues, families and audiences in public debate."
The alliance says the attacks are consistent and driven by political actors:
"These methods of attack are consistent, pervasive and driven by political actors. We stand with women journalists of Samoa who are attacked daily online and offline.
"We call on the [United Nations (UN)] system to support Samoa's women journalists in dealing with the crisis."
UN Resident Coordinator for Samoa, Cook Islands, Niue and Tokelau, Dr Simona Marinescu is currently out of the country.
In an email, she designated Communications Officer Aterina Samasoni-Pele to meet with SAMPODand the Samoa Observer to discuss how the UN can support women journalists.
Dr Marinescu is scheduled to return to Samoa on 26 July.