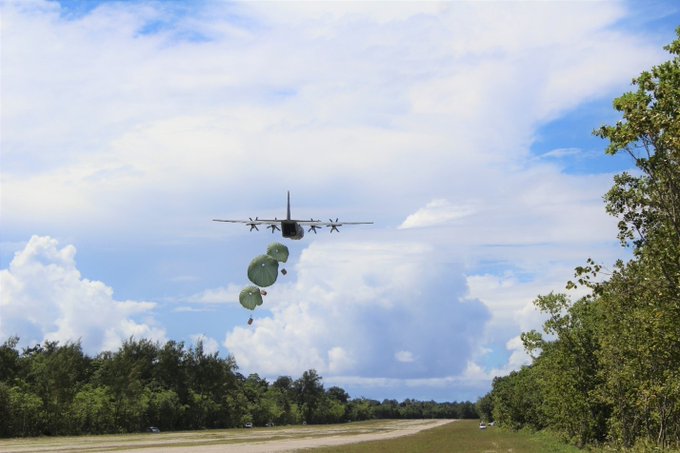 The United States military presence in Palau is not a response to any immediate threat, according to a battalion commander for Task Force Oceania.
Pacific Islands Battalion commander for Task Force Oceania LTC Rachel Sullivan in an interview said the U.S forces that are in Palau" are not here in response to any threat."
They are here as part of the Compact of Free Association (COFA) agreement and the defence agreement that we have with Palau," LTC Sullivan said.
Sullivan said a small number of military personnel from Task Force Oceania are deployed here currently as part of engagements in the Pacific region.
"It is important for us to be able to exercise and to know in the event that there was a threat or that there was something that we would be able to respond to that we would know where the right ports are and the right logistics locations are," she added.
Sullivan said the U.S. vision of free and open Indo-Pacific is not specially driven by the China issue.
"The U.S don't view the importance of a free and open Indo- Pacific to be specifically a China issue, but rather a global issue and one that impacts well beyond the military."
Sullivan said the Task Force's presence here is aimed at providing a range of assistance to the nation through medical missions, infrastructure work, spiritual engagements with Palau religious leaders, and engagement with the national police for security cooperation opportunities.
Last Sunday, Lieutenant General Jody Daniels, Chief of Army Reserve visited Peleliu with President Surangel Whipps Jr. to pay respects at many of the World War II monuments, including the monument of the First Infantry Division.
She said Lt. Gen Daniels also discussed the U.S military work that is ongoing in Peleliu , specifically the maintenance of Peleliu Airfield to make it a more usable airfield, both for Palau, and then also for future military exercises and exchanges.
Task Force Oceania is composed of members of the active duty Army, the Army Reserve and the Army National Guard.
According to the Department of Defence website Task Force Oceania deploys Civil Affairs teams to Pacific Island nations with "a primary mission to assist the State Department in the planning and execution of both military and civilian engagements throughout the region" ….
SOURCE: ISLAND TIMES/PACNEWS