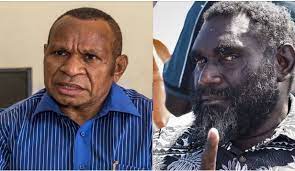 Papua New Guinea Opposition leader Belden Namah says the Bougainville referendum vote for independence must be ratified by Parliament.
"The vote was taken under the watch of this Parliament (so) this Parliament is duty bound to deal with it," he said.
He said it should not be deferred to the next Parliament.
"I have been wanting to speak on this matter in Parliament for a long time, but since last December, the Government has continuously deferred sittings," Namah said.
"And now I hear that Prime Minister James Marape, Bougainville President Ishmael Toroama and Bougainville Regional MP Peter Tsiamalili have agreed to a 2027 deadline.
"This issue is not for these men to discuss privately.
"It is the exclusive business of the PNG Parliament.
"The dangers of a delayed process for both PNG and Bougainville are great and they are mounting."
Namah said the people of Bougainville had been waiting for an answer from the PNG Parliament on their referendum outcome.
"It is now 2021 and nothing has happened," he said.
Marape last week said that there were no provisions in the PNG Constitution allowing a part of the country to break away and form its own country.
"The word independence was used as a referendum choice.
"It does not mean the Government has automatically agreed to that move," Marape said.
"A political settlement can only happen for Bougainville when all parliamentary processes have been complied with, including a national consultation and constitutional amendments reflecting the result of that consultation."
Namah challenged Marape to recall Parliament at the earliest to debate the matter
SOURCE: THE NATIONAL/PACNEWS