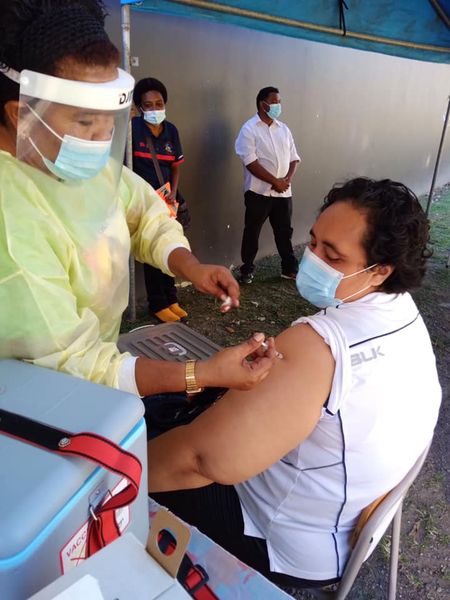 The Pacific Islands Forum Secretary-General has appealed for people in the region to be fully vaccinated against the COVID-19 pandemic in order for some form of normalcy to return to the islands.
Henry Puna made the appeal during his opening remarks at the Forum Trade Officials Meeting where he emphasised that due to the unprecedented times brought on by the pandemic, the world has shifted online.
He said a lot has changed since the trade officials last meeting in February last year, though he was happy to see some progress in some areas of the regional trade strategy.
"Things have changed considerably since our last meeting in February 2020 with the onset of the COVID-19 pandemic across our region, and its immense impact on our economies, and in particular our tourism, fisheries, services, sectors, and overall trade," he said.
"I know building back from those impacts, many of which are still evolving, is an important key focus for your discussions.
"I am also heartened to note that despite the disruption caused by COVID-19 we have managed, as a region, to continue to progress the priorities as articulated in the Pacific-Aid-for-Trade-Strategy.
"Most notable is the significant progress on e-commerce and quality infrastructure regional initiatives."
Puna also acknowledged the important initiatives progressed thus far including trade finance, connectivity and services, and working towards deepening Forum markets.
He added that at the forefront of realising some form of normalcy in the islands' operating environment, is the need for the people of the Blue Pacific to be fully vaccinated.
"Indeed, this can only occur when the region ensures access to affordable vaccines, through timely and equitable rollout, to power our collective recovery," he said.
"We must work together to capitalise on and leverage the positive gains we have seen in 2020, including strengthening remittance flows to the Pacific Islands region."
According to Puna, the region should work towards strengthening labour mobility frameworks holistically, addressing its social dimensions including worker welfare and wellbeing.
He added that their specific guidance is also needed on several action-oriented proposals such as a Regional Trade Facilitation Strategy; the development of a Regional Kava Strategy, and a regional Pacific Observatory on market intelligence and market information.
He encouraged those attending the meeting to have solid discussions and reach considered and ambitious positions that will ensure a balanced fisheries subsidies agreement that will support development interests of the Forum Island countries.
SOURCE: SAMOA OBSERVER/PACNEWS