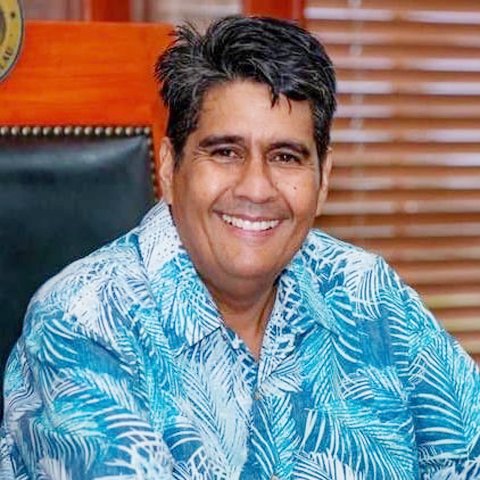 Palau President Surangel Whipps Jr called on world leaders to set aside differing political views and collaborate on a bold climate action.
The president is among the Pacific leaders and ministers who joined a virtual dialogue hosted by the United Kingdom Thursday, ahead of the United National climate conference in Glasgow in November.
"As a Small Island Developing States (SIDS), our environment is only second to our most valuable resource –our people. As leaders, it is our responsibility to act boldly –individually and collectively–to ensure our survival," Whipps said during his statement at the meeting."
Palau, he said, continues to face the impacts of climate change and while nations can have "differences in political views," it should not hinder collaboration, nor should it make access to funding mechanisms more difficult."
Whipps said Typhoon Surigae that hit Palau in April added challenges the country already faced from COVID-19.
"The typhoon came and left. 20 percent of homes were impacted, sources of livelihood suffered as essential infrastructures."
President Whipps joined the leaders and representatives from Fiji, the Federated States of Micronesia, Tuvalu, Niue, Republic of Marshall Islands, Cook Islands, Solomon Islands, Vanuatu, Nauru and Samoa in the discussion of COP26 President Alok Sharma to set out priorities for the climate change summit in November.
The president said the focus of the nation is to enhance climate resiliency, then while it produces the least emissions, it suffers the most from climate change with its vulnerability exacerbated by limited access to financing to cope with the impacts.
"What we would like to see happening in COP26 is for global partners and major donors to recognise the Special Circumstances of SIDS. Our capacity constraints coupled with our inability to access funding mechanisms further exacerbate our vulnerabilities."
According to the Pacific Community (SPC), the Pacific nations in the virtual meeting are urging further ambitious action from developed countries to reduce emissions and limit global warming to 1.5°C, and called for COP26 to deliver a step-up in finance for SIDS both in mitigation and adaptation action.
Whipps also highlighted the importance of ocean issues at the climate summit.
"A climate crisis is an ocean crisis. Addressing both must take an integrated approach," he said.
Palau is hosting Our Oceans in February of 2022 and the president said the conference will continue to "highlight ambitious actionable commitments in six thematic areas, including climate change and marine plastics–looking at sustainable alternatives that will help us protect and restore the health of our largest carbon sink.
SOURCE: ISLAND TIMES/PACNEWS